MEC to debut 60-foot boom at The Rental Show
By Lindsey Anderson19 November 2014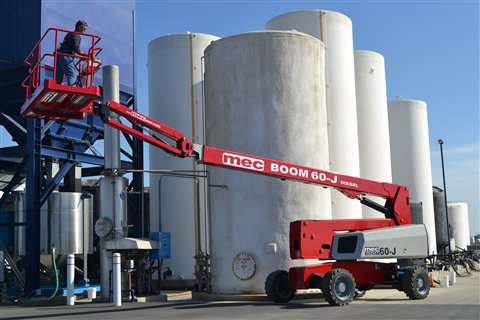 MEC Aerial Work Platforms will unveil a brand new 60-foot boom lift at the 2015 Rental Show, Feb. 22-25 in New Orleans, Access, Lift & Handlers has learned.
The 60-foot boom will reportedly have 600 pounds of lift capacity, 42 feet and 8 inches of outreach and 45 percent gradeability. The unit can be powered by either diesel, battery or with a hybrid option.
Standard features include: an 8-foot work basket, a continuously rotating turret and full-time, four-wheel drive.
A 6-foot jib adds 135 degrees of motion to the unit and the platform rotates 180 degrees each way. The boom and riser reach full height in 50 seconds and the boom can be fully extended in just 20 seconds. The unit's tailswing is 3 feet, 11 inches. The inside turning radius is 6 feet, 6 inches and the boom will have 13.5 inches of ground clearance. It can be driven at full height, as well.
MEC will offer a diesel, 44 hp Kubota engine or a battery powered option with a 72-volt, 370 AH battery pack. Hybrid is also available as an extra option.
The boom with a diesel engine is expected to weigh 17,900 pounds and the battery version will weigh about 18,500 pounds.
For more information, see ALH's Rental Show supplement in the January/February 2015 issue.