Mecalac celebrates 60 year backhoe landmark
By Thomas Allen18 September 2019
Mecalac Construction Equipment UK is celebrating the 60th anniversary of its backhoe loader. Backhoes were added to Mecalac's product line when it acquired Terex's Construction business at the end of 2016.
Originally licenced under the Massey Ferguson agriculture brand, the company's Coventry manufacturing facility has assembled thousands of models since the very first unit rolled off production in 1959.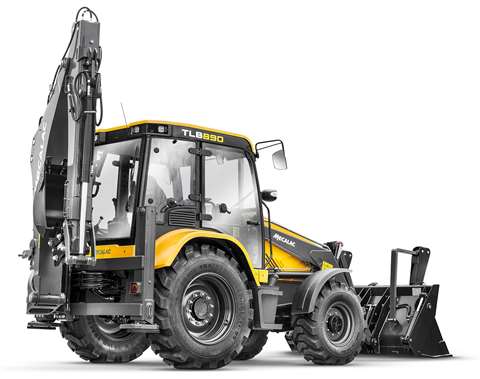 To celebrate 60 years, a special offer campaign will be launched, in which a number of Mecalac's backhoe models will feature a limited-edition decal and will be available with special finance support packages.
Paul Macpherson, UK Sales and Marketing Director at Mecalac UK, said, "With 60 years manufacturing experience, we're confident that the latest range ticks every box for the owner and operator."
The Mecalac backhoe loader portfolio comprises three models – the TLB870, TLB890 and TLB990. They are available in both centre mount and sideshift configurations.
The backhoes have changed a lot since 1959, with key updates on the 2019 models including a direct drive transmission, which passes the drive shaft through the centre of the torque converter to optimise output.
The new models also feature Auto Ride Control, which automatically engages and disengages the ride control dependent on machine speed; and the option of powered sideshift on the TLB890 and TLB990 models.
To coincide with the introduction of Stage V emissions legislation, Mecalac's backhoes are now fitted with Perkins' Syncro engine platform. This comes with a number of productivity benefits, including a 9% increase in the torque output of the 55kW TLB870.