Mediaco moves into MEWPS
By Euan Youdale21 September 2018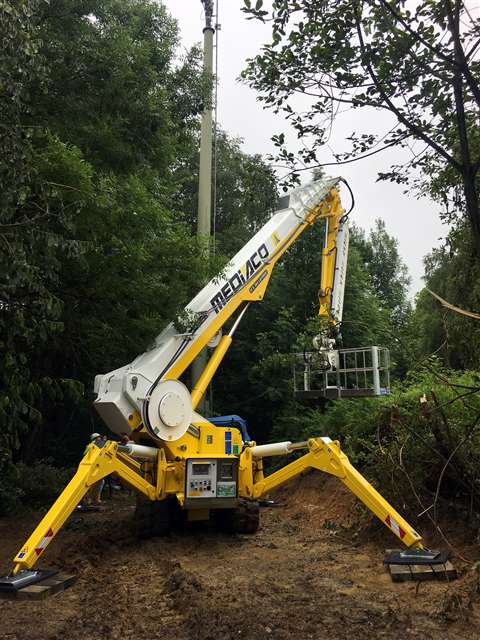 With a fleet of 600 mobile cranes, 500 transport vehicles, 1500 employees and around €300 million turnover, Mediaco Group is considered the number one in the field of lifting in France, and the seventh in the world, says Palazzani.
Among other machines recently included in its rental fleet, Mediaco has also acquired a Palazzani XTJ 52 tracked platform.
Frédéric Codina, the new head of sales at Mediaco Location Services, said, "I have been working in the platforms business for about fifteen years. Mediaco wanted to relaunch this activity with my arrival in the company."
The XTJ 52 is the highest tracked platform in the market and will be used mainly in the off road mobile telephone sector, on irregular or steep terrain and woods. The Ragno XTJ 52 has a 52m working height and 19.5m outreach, with a bi-energy engine - diesel + AC - for working outdoors and inside when required.
Stowed dimensions are 8898mm in length x 2400mm height. The extendable tracks guarantee maximum stability on slopes up to 40%.
The machine is customised in Mediaco colours and a hydraulic winch with 500kg lifting capacity. There is an air/water hose basket attachment, anemometer and electric generator for electric when no other power source is available. The basket is a standard 2400x700mm and has three working capacites of 120, 230 and 400kg, depending on the outreach.
The day after the delivery to Mediaco Aquitaine in Bordeaux, and the required training course, the machine was put to work for the replacement and repair of a telephone antenna in Tarbes, Southern France, located through a narrow and uneven path on the hillside and to set-up in a narrow area in the wood surrounded by trees. The rain made it all the more difficult, due to the mud that complicated the climb maneuvers.
Mediaco has previously been involved in access equipment. Approximately 15 years ago it had a joint arrangement with Loxam to rent very large truck mounted products, and in 2012 it sold non-crane businesses to Loxam, including MSO, a Toulouse-based access rental operation.