Melbourne CBD's tallest tower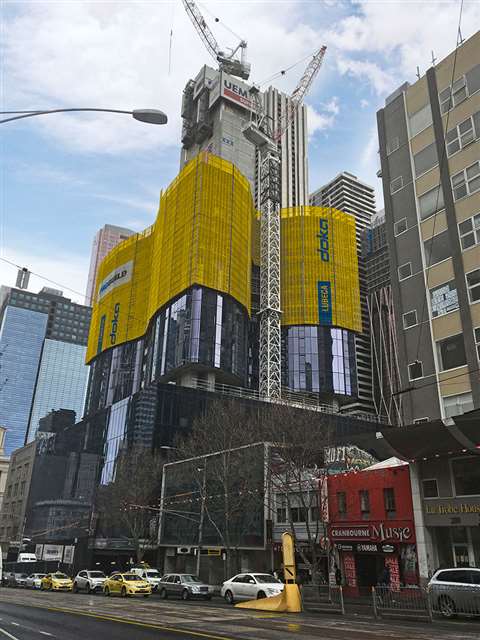 In the city centre of Melbourne, Australia, the formwork solution from Doka and Lubeca is helping build the residential tower, Aurora Melbourne Central. The combination of Lubeca's platform system with the Doka protection screen Xclimb 60 tailored specifically for the Australian market enhances efficiency and safety.
Aurora Melbourne Central on La Trobe Street will be the tallest residential tower in Melbourne's CBD. It will also be the only residential complex to have its own direct access to the underground City Loop rail station. The residential tower will have 92 floors and stand more than 0.3 km tall from the footpath. Architects Elenberg Fraser designed the Aurora Melbourne Central for Malaysian based developer, UEM Sunrise.
For this project, Tier-1 Australian contractor Probuild, one of Australia's largest construction companies, selected Doka and Lubeca as suppliers of key elements of the formwork solution. When completed in late 2019, the highrise will accommodate 959 residential units and 252 serviced apartments, plus commercial office and retail spaces. The buildings core is being built with two separate platform systems, and this speeds up the cycle times. Consequently, the Aurora Melbourne Central build is rising in the steady rhythm of a four-day cycle. The project ranks as Doka Australia's biggest single contract to date.
The Protection screen Xclimb 60 enables construction work to be carried out on the top building levels of highrise projects in great safety, and protected from the weather. "The façade panels are installed from inside of the building. So the workers are in a fully enclosed environment without risk from working with slab edges and without adverse weather affecting progress," said Christian Unger, managing director, Doka Australia.
Xclimb 60 is a hydraulically climbed system that can also be lifted quickly by crane when crane capacity is available. It is continuously structure-guided, so it can be operated even at high wind speeds. In combination with an integrated monorail system it makes the façade panels safer and faster to install, which also helps save costs.