Merlo debuts new telehandler
By Lindsey Anderson11 January 2019
The Roto R50.35 S-Plus features a 115-foot lift height and is now available in the U.S.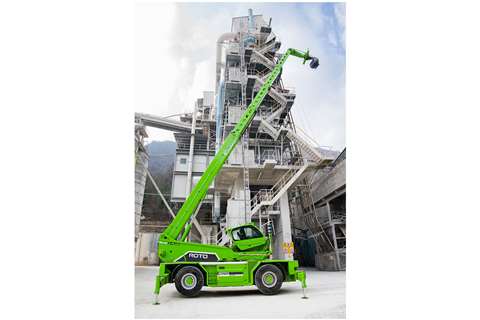 Merlo has debuted a 115-foot-lift-height telehandler for the U.S. market. Distributed through Applied Machinery Sales, the Roto50.35 S Plus features a newly engineered tilt cab with integrated controls, 96-foot reach, maximum capacity of 10,900 pounds, 360-degree rotating turret and a new safety system.
The modular cab features a curved glass windshield and the cab tilts up 20 degrees, expanding the operator's view when the boom is fully extended. For improve operator comfort, the interior is 10 percent larger, Merlo said.
Machine functions are controlled by interactive electronic capacitive joystick that is mounted onto the multifunctional armrest. Turret rotation is now controlled by a miniature mouse located on the joystick. The armrest has two sensors automatically detecting the presence of the operator's hand, preventing erroneous or accidental joystick movements. For seamless operation, the functional controls, such as stabilizer placement and machine suspension, are integrated into the armrest as well.
The chassis design offers increased structural strength and weight. The R50.35 S-Plus exterior received upgrades also. "Strategically placed handles make for easier accessibility, plus a second ladder on the engine side is positioned to improve cab accessibility even when the turret is rotated to 180 degrees," the company said.
Merlo engineers consolidated the MCSS and MerLIN safety systems into the single Advanced Safety System (ASCS). The ACSC system collects and analyzes different machine parameters such as load position, boom extension angles, turret rotation, stabilizer position and load weight in real time to create the load diagram, according to the company. This data translates into a visual representation on the new LCD. Plus, the ASCS automatically recognizes, and incorporates, attachment information into the data, Merlo said.
The R50.35 S-Plus offers a 170 hp engine that can travel up to 25 mph. An EcoPowerDrive (EDP) hydrostatic transmission reduces fuel consumption and an ACVTronic transmission is optional. The R50.35 S-Plus will be showcased at World of Concrete 2019.