Merlo debuts P27.6 PLUS telehandler
By Lindsey Anderson11 September 2020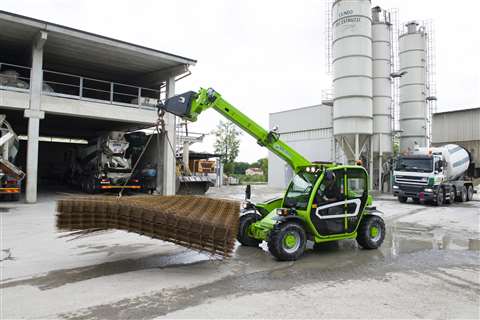 Merlo has debuted the P27.6 PLUS compact telehandler that features a maximum load capacity of 6,000 pounds and maximum reach of 19 feet, 4 inches. The unit is 6 feet wide and 6-feet, 4-inches tall.
Operator comfort was at the forefront of the cab's design, which features frame mounted vibration-damping silent blocks and ergonomic functionality due to control placement. The 3-foot, 3-inch cab offers real-time operating parameters through the unit's LCD. The reverse shuttle is located on the steering column, giving the operator maneuvering agility while still retaining control of the wheel. The cabin's air filter is mounted on the side of the cab for better quality air flow. Operators have balanced AC/heat through an automotive-style, eight-vent system. The P27.6 PLUS delivers full visibility with a curved windshield, protected by a FOPS-certified protective grill. The unit has a 3-inch ring of steel that surrounds the cab maximizes protection of the machine and its operator.
The P27.6 PLUS comes standard with a hydrostatic transmission (maximum speed is 25 mph) and 4WD with three steering modes. The engine compartment — with either a Kubota or Kohler 75 hp 4-cylinder engine — is mounted on the frame side for maintenance accessibility. The unit's no-flex boom has hydraulic lines inside the boom, reducing jobsite wear and tear. The fixed displacement hydraulic pump is engineered to limit component wear and reduce hydraulic oil overheating.
With its two hydraulic connections and outlet on the boom, the P27.6 PLUS is designed to accept many attachments, Merlo said. The operator-controlled Tac-lock system makes for easy, and safe, attachment connectivity. Standard features include an engine block heater, wipers and lights.