Metals recycler victim of US$195 million fraud
Leading metals recycler Aurubis has revealed the results of what it described as an "extraordinary inventory", that identified a shortfall in its precious metal stores worth around €185 million (US$195 million).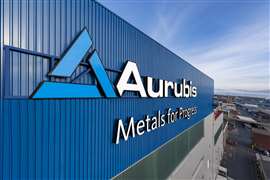 Bosses at the Germany-based company ordered the inventory, conducted on August 31, 2023, after routine inspections "discovered significant deviations" and discrepanies in shipments of input materials. 
Aurubis, which earlier this year reported that it had been the victim of criminal activity in June, said the results of the recent inventory had led it to "conclude that it has been the target of further criminal activity", and that Germany's State Office of Criminal Investigation had been brought in to help find the culprits of the fraud. 
The company, which has also established a task force with an external partner to increase its security and to protect it against criminal activities, said: "It is now clear that shipments and samples of input materials in the recycling area with high contents of valuable metals were manipulated to Aurubis' detriment.
"The shipments did not contain the metals in the amounts expected based on the manipulated samples, and inflated invoices were paid as a result."
Commenting on the situation, which is believed to involve both the company's own staff and a number of its 400 external scrap metal suppliers, Roland Harings, Aurubis CEO, said: "Occupational safety and plant security are our highest priorities.

"We are working closely with the investigative authorities and at full speed to get to the bottom of the criminal activities. We have pulled all of the necessary internal resources together and are using external forensic specialists."
While the metal provider said it is expecting the monetary blow to be slightly softened by insurance payouts amounting to around €30 million (US$31.5 million), as well as the seizure of assets from the criminals involved, it has been forced to revise its financial forecast.
"For the current 2022/23 fiscal year, the company anticipates an operating result between €310 [US$326 million] and €350 million [US$368 million]," said Aurubis.
"The company had already retracted the previous operating result forecast of €450 [US$473 million] to €550 million [US$578 million] in the ad hoc release dated August 31 [2023]. The company anticipates an operating ROCE (return on capital employed) of between 8 and 12% (previously: 14 and 18 %)".