MHM Plant has taken delivery of almost 700 lighting towers from Italian manufacturer Trime, in preparation for winter.
Along with traditional LED diesel-powered X-Eco lights, the order comprises Trime's X-Hybrid Solar and X-Pole Solar sets, as well as a fleet of Baby-Lite (LED-4) lighting rigs.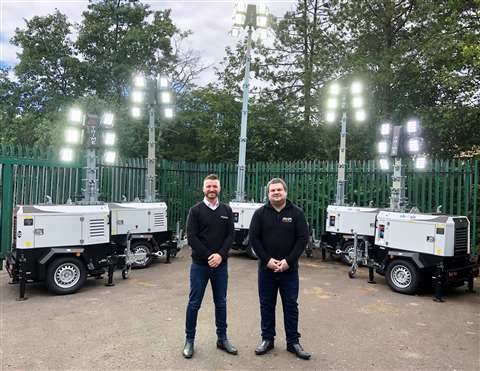 Mat Llewellyn, Managing Director of MHM Plant, which operates a rehire service for other rental firms in the UK and Ireland, said, "We already are shipping out our lighting sets to hire firms throughout the UK and Ireland. Judging by the amount of enquiries we are currently handling, we expect this winter to be a very busy one for lighting. So we are making sure that we are well prepared to meet with this demand."
Although the diesel-powered units remain the most popular, Llewellyn noted that there is a growing trend for more sustainable units. Hence the company's investment in hybrid solar sets.
The Trime X-Hybrid Solar lighting units are powered through an individually designed hybrid power supply system, which comprises a solar panel connected to rechargeable batteries backed-up by a small diesel engine. The X-Pole Solar, however, is powered exclusively by battery and solar panels.
Meanwhile, the Baby-Lite (LED-4) is manufactured exclusively for MHM Plant. It features four 200W LED lamps fitted onto a 360° swivel and tilt lighting head, with a 4m vertical stainless steel manual mast. The base has been configured to accept most brands of petrol or diesel generators from 2 to 6.5kVA.