Mini crawler excavators dominate in France
By Thomas Allen17 April 2018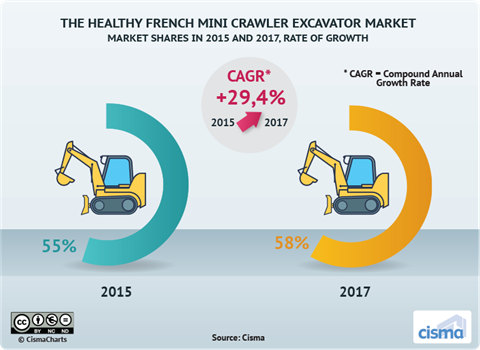 Mini crawler excavators now represent the largest segment of France's construction equipment industry, according to CISMA, the French association of manufacturers of construction equipment and material handling technology.
Last year, for the first time since the financial crisis a decade ago, the French market for mini crawler excavators reached the high levels seen back in 2008.
In 2017, the machines made up 58% of the market, compared to 55% in 2015, and over the past three years the average annual growth rate of the segment was 29.4%, according to CISMA.
Between 2015 and 2017, the market was said to have expanded significantly due to an increase in construction investment. Following the increase in building activity in 2016, civil engineering performed well in the second half of 2017. Purchases made by rental companies also contributed to the growth of the market, according to CISMA.
The market grew by 23.7% in 2017, with all market segments contributing to the rise. The one to three tonne segment, which represents 57% of the total mini crawler excavator market in France, rose by 22%. However, the most dynamic segments were the zero to one tonne, which grew by 48%, and the five to six tonne segment, which increased by 30%. These two segments represent 18% of the market.