Mini first for Wacker Neuson
By Steve Ducker04 April 2018
Wacker Neuson will present its first fully electric, battery-powered mini excavator at this year's Intermat, which starts on April 23. The company says the EZ17e performs and handles like a diesel-powered model.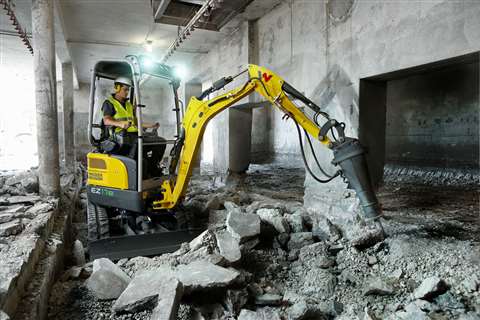 The EZ17e can run entirely on its battery, but it can also be operated while connected to the mains – and even charged while in operation – thanks to its smart charging management system. This makes it the ideal solution for environments where emissions and noise must be kept to a minimum, for example in urban areas or for indoor work and on sites close to schools and hospitals.
The mini excavator is also a zero-tail model, so operators do not have to worry about damaging the machine when working close to walls or in confined spaces because the tail of the electric excavator never extends beyond the undercarriage. According to Wacker Neuson, this makes the EZ17e ideal for demolition and redevelopment work in confined spaces, and for restoration projects inside buildings.
"Our development work always focuses on usability and customer value," said CEO Martin Lehner.
"Which is why we make no compromises when it comes to performance, with power ratings matching those of our diesel-powered model."
The EZ17e is powered by the latest lithium-ion technology, which Wacker Neuson has been using and continuously developing for many years. Long battery life is one of the key features, allowing the fully electric excavator to be operated for a full working day. The battery can be charged overnight via a domestic socket (110-230 V), or in just four hours using a high-voltage current.