Mixing Equipment: A recipe for success
By Jenny Lescohier16 October 2020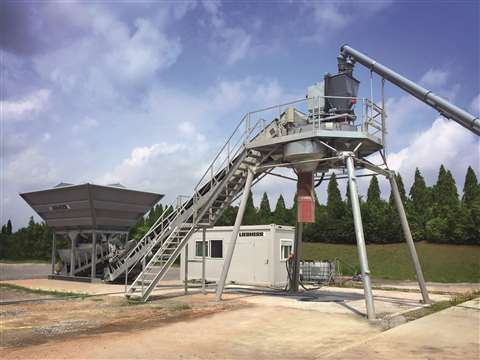 Mixing plants are benefiting from advancements in all areas of technology, from green initiatives, automation, quality control and more. Overall, today's plants are shown to be evolving toward greater efficiency for the benefit of producers and their customers.
Recycling technology is becoming increasingly important worldwide, as concrete and asphalt producers attempt to use resources wisely without adverse effects on the quality of their mix.
Rising demand for reclaimed asphalt pavement (RAP) in infrastructural development is expected to boost the demand for asphalt additives, according to the study, Asphalt Additives Market Demand and Opportunities 2020-2030 by Persistent Market Research.
The usage of RAP helps reduce the use of costly virgin asphalt material, which in turn, helps in overall cost savings. However, up to around 30% of RAP is mixed with virgin asphalt, as the addition of a higher percentage of reclaimed asphalt degrades performance efficiency.
Demand for asphalt used in the paving of streets and highways has been rising in recent years because of increased government investments and growth in road infrastructural development activities, the study finds.
To meet high demand for RAP, Switzerland-based Ammann has developed the ACP ContiHRT for the North American market. The plant features a RAP dryer for the addition of warm recycled materials and a separate cold recycling feed. This enables the plant to develop mix consisting of up to 60% RAP.
"Here, reclaimed asphalt production technologies were transferred from Ammann batch plants to a continuous mixing plant," explains Günter Tesch, senior business development manager plants, Ammann. "Customers who prefer continuous mixing technology can now benefit from Ammann's experience and use proven technology that sets new standards."
He adds, "In recent years, the focus is more aligned to saving resources and to reduce the CO2 footprint through measures such as low temperature asphalt. This results in developments around high RAP technology, which becomes more important in today's mixing world."
The Ammann RAH100 dryer is designed to enable an asphalt mixing plant to produce mix consisting of 100% RAP.
Essential to the RAH100 is its gentle heating process, the company explains. During the warm mix process, the dryer can heat materials between temperatures of 100ºC and 130ºC. It can also make asphalt at 140º-160º if a more traditional mix is desired.
The heating is usually where complications with RAP material arise. RAP must reach its target temperature, but the valuable bitumen will be damaged if the material is heated too quickly.
The RAH100 Drum from Ammann was designed to eliminate that concern and consists of two connected sections. One is a hot gas generator that contains a burner and forces air toward the second section, which is a counterflow dryer.
The RAP enters at the far end of the counterflow dryer section and moves toward the heat chamber. At the end of the counterflow dryer, RAP is transported to an accompanying silo. The heated RAP mix leaves the dryer before the temperature becomes excessive, so it never reaches the critical temperature where bitumen is damaged.
Eliminating human error in concrete and asphalt mixing
In today's world, extensive automation of production processes is important for the safety of workers and quality of product. With fewer labourers to employ, taking the potential for human error out of the equation as much as possible is key.
Assisting with this are features such as Trimble's TrimFleet HPS100, an automated means of capturing the hydraulic pressure reading from a mixer's drum gearbox transmission, which then assists concrete mixing truck drivers with ensuring a consistent mix arrives at the job site.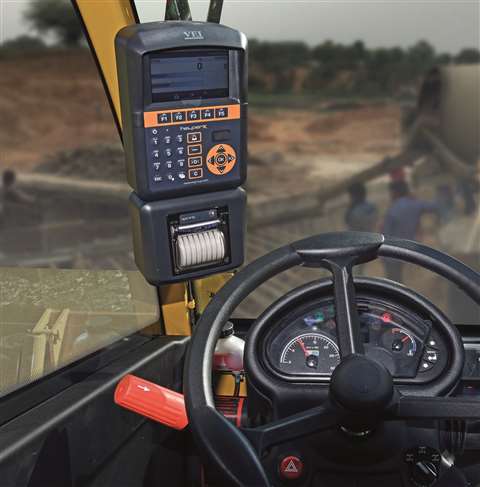 Data is captured by the HPS100 at critical points through the delivery cycle with position and time stamps for quality validation. Dispatchers and batch operators can see real-time pressure readings from their desks without waiting for the driver to respond. Quality control managers can then ensure the material is mixed properly when it leaves the plant after water is added and prior to pouring by monitoring the pressure data in TrimView or reviewing report data.
"When concrete leaves the batch plant and goes into the truck, it becomes the driver's responsibility to try to maintain that mix design," notes JP Schuette, product manager for Trimble Construction Logistics.
"Traditionally, it's been part of the process for drivers to climb up on the truck, possibly add more water to the mixture, depending on how far they're going or what the mixture looks like. They had to kind of polish up that mixture before they head out to the job."
The hydraulic pressure reading indicates how much pressure it takes to turn the mixing drum when it's full, which correlates to the slump. With this information, drivers no longer need to put themselves in potential danger by climbing up on the back of the truck, and it eliminates the time spent checking material. The HPS100 provides a confirmation the producer's customer will get the exact product ordered.
"In the bigger, more holistic picture, it's really about safety and quality and people getting what they paid for," Schuette says. "With our TrimView application, the driver can see the reading on their tablet display and the dispatcher can also see it for that truck. It's really helpful for quality control."
Simplifying on-site concrete and asphalt mixing operations
Carmix is helping to propel the concrete industry forward with the development of digital technologies that simplify on-site operations. One example is Concrete-Mate, a load-cell electronic weighing system that weighs the concrete mix directly inside the drum. Instead of a hydraulic weighing system installed on the bucket, the Carmix system is equipped with four electronic load cells on the drum bottom.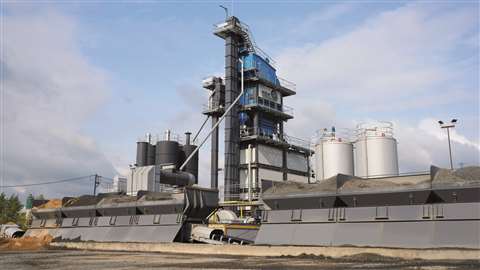 Available on the Carmix 3500 TC model, this load-cell electronic weighing system allows the operator to simultaneously dose and check all aggregates as they are loaded inside the drum, including water. This simplifies the control of each aggregate, reducing dosing error. In addition, the system can store up to 15 different Mix-Designs with up to 99 components at a time. When loading is complete, the PC in the control cabinet automatically prints a ticket with all relevant data, which can be saved on a USB stick.
Concrete-Mate is a digital Mix-Design Manager running an RMC Plant-level management software that applies four load cells inside the mixing set to achieve a high-quality concrete mix in compliance with international concrete standards (UNI 206-1 - ASTM – ACI, etc.).
Once the desired mix design has been stored, the software suggests the doses for each element, the sequence of operations and the time needed for each process step, thus eliminating any potential error. The four load cells act as weight sensors directly where the mix is made.
Concrete-Mate allows individual operations to be quality controlled. The software issues a certificate with all analytical Mix-Design data at the end of process.
Carmix has developed a monitoring system from website (IPOTweb) and from App (IPOTAPP) for an accurate monitoring of concrete output, product quality and running costs, helping users track return on investment.
Cost concerns with concrete and asphalt mixing
Budget constraints exist in every construction process, especially in the age of Covid-19, where commodities are harder to come by and cost more as a result.
To that end, Liebherr has introduced the LCM 1.0 concrete mixing plant for smaller budgets. It's said to involve quick and simple assembly, with minimal foundation work, and will produce up to 60m³ output per hour. What's more, it can be transported in as little as two containers.
According to the company, Liebherr is reacting to market requirements. The demand for smaller, transport-optimised plants for a manageable budget is growing as more and more contractors want to produce their own concrete requirements themselves with a smaller mixing plant. The focus is on low procurement costs.
In addition to stationary use, pre-assembled subassemblies and steel foundations make the Liebherr plant ideal for mobile use, for example on construction sites or leased land. It is possible to relocate the plant very simply, the company states.
Operation is made easier on the operator through the use of an intuitive control system via a laptop. Operators will also appreciate that ascent and platforms are spacious and ensure optimal accessibility, so cleaning and service work is simplified.
The Liebherr ring-pan mixing system produces up to 60m³ of fresh concrete per hour. Various aggregate silos with a storage volume of 40 to 100m³ are available. The plant can be equipped with up to three cement silos (100 tons each).
Transportability and modularity are sought-after features in the name of flexibility. To that end, Russia-based contractor Zentrodostroy decided to invest in a transportable asphalt mixing plant from Benninghoven.
"With the TBA 4000, we are looking to arm ourselves to meet current challenges and prepare for the future at the same time," explains Nikolai Konstantinovich, mixing plant director at Zentrodostroy. "We have long-term plans for our Benninghoven plant. One important argument in favour of the investment was the option of retrofitting modules at any time to keep pace with the state of the art," adds Konstantinovich, describing the advantages of the TBA line's modular design.
Specifically, Zentrodostroy already has its eye on Benninghoven's multivariable feed technology. The RAP cold feed system achieves RAP material rates of up to 40%, making asphalt production more cost efficient and sustainable.
"In Russia, there has been a strong focus on white mineral in the past, but attitudes in the industry are changing," says Konstantinovich.
The reasons make sense: Instead of disposing of old asphalt, the Benninghoven RAP feed system turns it into a valuable raw material. First, the milled material entirely eliminates the cost of new white mineral, and second, less bitumen is required to process it into new mix in the TBA 4000.
Safety is number one in concrete and asphalt mixing
Of course, a safe mixing plant is a productive one. "We are constantly working on making our plants safer," states Tesch at Ammann. "This refers to occupational safety but also to operational safety. Today we already meet the highest international standards.
"The control system plays an important role, as it monitors the entire process, including the emission limits and access to critical plant components," he continues. "Ammann places great importance on safety and ergonomics for maintenance personnel, for example, through good accessibility of plant components, interlock systems, generously dimensioned service and maintenance doors, etc.
"Infrastructure and the associated road construction sector will continue to play a key role in the economy in the future," he concludes. "We are cautiously optimistic about developments in the next few years, depending on the developments around Covid-19."
Making concrete 'armour'
Dragados UK uses tech from BHS-Sonthofen at Aberdeen Harbour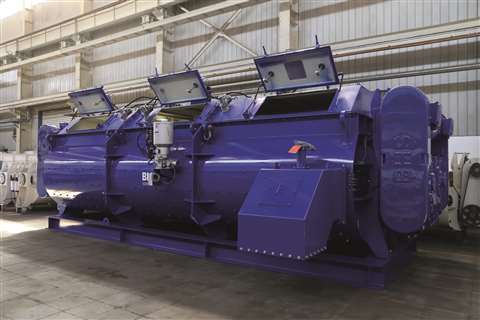 Dragados UK & Ireland, a construction branch of the Spanish ACS Group, is using mixing technology from BHS-Sonthofen to produce concrete in the £350 million (US$471 million) expansion of Aberdeen Harbour in Scotland, including the making of approximately 9,000 accropodes (man-made unreinforced concrete objects) which serve as the outer armour for the north and south breakwaters.
Dragados purchased a mixing unit from the Spanish supplier Industrias Leblan including the twin-shaft batch mixer (DKX) from BHS-Sonthofen to produce the concrete accropodes which protect breakwaters and coastal structures against the action of waves. They appear like rocks and blend into the surrounding landscape.
The accropodes are manufactured on a carousel production system in three sizes: 8, 12 and 16m³ – with the 16m³ mould being the largest to have been produced by an automated factory process.
According to Dragados, the company will need to batch 245,000m³ of concrete by project's end and the mixing technology used has turned out to be the perfect solution for the unique challenges of the job. For instance, the concrete needs to reach a hardness of 40 Megapascal (MPa) within a certain time.
The DKX twin-shaft batch mixer rapidly produces mixtures with consistently high levels of homogeneity and is designed for mixing processes with high output requirements. The three-dimensional mixing concept results in a more intensive exchange of materials and in shorter mixing cycles with reduced energy consumption.
Aberdeen Harbour is one of the busiest ports in the UK, serving Scotland's third largest city and significantly contributing to the local economy.
Construction began in May 2017 and the project is due for completion in 2021.