Modern takes on Skyjack dealership
By Euan Youdale20 May 2016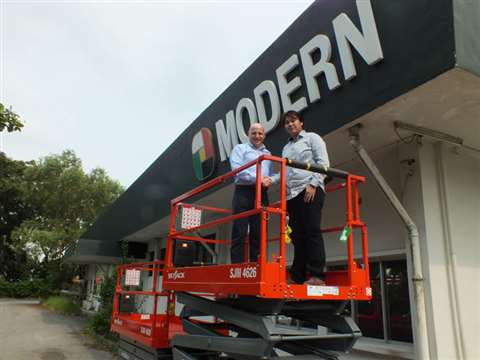 Skyjack has named Modern Access & Equipment as a new dealer in Singapore.
The dealership agreement took effect at the beginning of January. In addition, Modern also added 60 Skyjack machines to bolster its rental fleet, which includes the first SJ86 T telescopic boom to arrive in Asia plus additional booms for sale and rental.
Prior to the latest delivery, Modern's fleet already included over 400 Skyjack machines. Klein Phua, assistant general manager at Modern, said adding the latest batch of machines will help his company cope with increasing demand from customers.
Included in the order were around 50 DC scissor lifts, with model numbers ranging from SJIII 3219 to SJIII 4632. The machines have a working height ranging from 7.79m to 11.75m, and come with Skyjack's Skycoded feature as standard.
The SJ86 T is drivable at its full working height of 28.21 m and fitted with an axle-based 4WD system. It has 45% gradeability.
"Modern is one of the biggest names in equipment rental in Singapore, so when we supplied 260 units to the company back in 2013, it made everyone else sit up and take notice," said Simon Cracknell, Skyjack's director of business development in Asia. "Partnering with them as a dealer is really a win-win situation for both companies."
The Modern Group is based in Hong Kong, but also has branches in Macau, as well as in Singapore, making them one of the biggest rental companies in the Far-East Region.