Modular prototype 'significantly' reduces construction time
By Andy Brown11 January 2023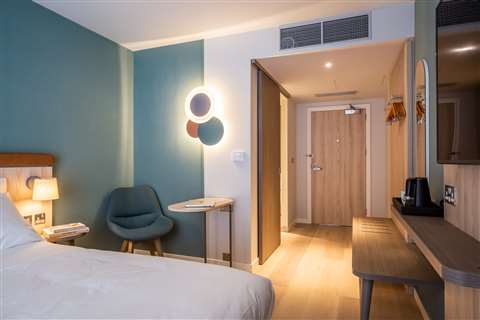 Global modular building specialist, Volumetric Building Companies (VBC), has developed and launched the first modular prototype for a new hotel concept that it says can reduce the build programme by around eight months.
The modular approach to construction will allow the flexibility to adapt the design to specific site requirements and the needs of each local market.
"This application of advanced modular technology will help to address some of the challenges facing developers – construction will be faster, acoustics are improved with less noise transmission between modules, and quality is more consistent," said Andy Smith, UK Director at VBC.
"Manufacturing the hotel rooms in a controlled factory environment means a reduced carbon footprint and less waste. And by maximising work offsite, developing constrained urban locations is also much easier – from airport sites to out-of-town business parks."
Each steel-framed module contains a fully furnished room, ensuite, hallway, and corridor section. The VBC system is suitable for hotels of up to 20 storeys.
The new method will be used to help accelerate the expansion of the Marriot's Fairfield brand of hotels – there are over 1,200 properties worldwide.