Modulift and Grove lift storage tanks
By Leila Steed29 December 2020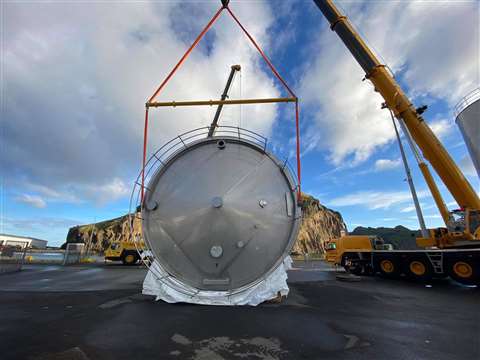 Two Grove cranes and a Modulift spreader beam have been used to lift four 25-tonne storage tanks at a fish processing facility, located on the Westman Islands in Iceland.
The operation was carried out as part of a project to increase the freezing and storage capacity of fishing company Ísfélag Vestmannaeyja, which was originally established in 1901 as an icehouse to store bait for fishing vessels.
The project's main contractor Jáverk ehf used two mobile cranes – a Grove GMK 5130 with a lifting capacity of 130 tonnes and a Grove GMK 5100 capable of lifting up to 100 tonnes – and a Modulift MOD 50 spreader beam to the lift the 17-metre-tall tanks into position.
According to manufacturer Modulift, the lifting operation used the MOD 50 spreader beam at a span of 8 metres, which provided 50 tonnes of lifting capacity. The beam was supplied by Iceland-based lifting equipment provider Heimir og Larus ehf.
Lárus Lárusson, owner of Heimir og Larus ehf, said, 'Each lift took less than an hour to complete, but the key to any lift is the preparation, and we have worked with Modulift on a number of occasions. With their dedication to customer service and truly understanding how vital speed of delivery is, especially getting a product delivered to us here in Iceland, without compromising on safety, is what makes us choose them time and time again. They also provide a high level of documentation, which our insurers insist upon".