Modulift launches TriMod
By Niamh Marriott06 October 2021
UK-based Modulift has added a new product to its portfolio designed for three point lifts and circular lifts.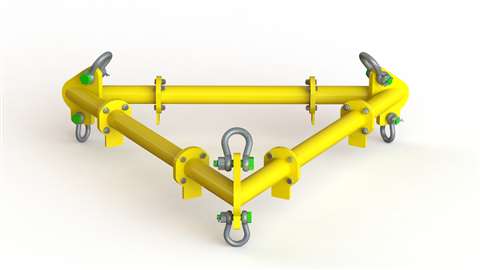 The TriMod, designed by the Modulift engineering team and manufactured in-house at the factory in Poole, Dorset, is a triangular frame. Its shape allows extension for 6-point lifts and for multipoint circular lifts. All TriMod corner units are compatible with Modulift spreader beams.
The design makes the rigging configuration easy to assemble. Due to the shape, it can be used for circular lifts, particularly when lifting tank roofs and pressure vessels.
Positive feedback
John Baker, Modulift commercial director, said, "We are continually looking for new ideas and developing new products. We recently attended Vertikal Days in Peterborough and brought a TriMod demo along with us.
"The feedback we received was phenomenal, everybody loves the product and how unique it is. It was good to see everybody again, especially after a testing 18 months for the lifting industry and for us, it was great to come back to our first event with a brand new product."
Harshal Kulkarni, Modulift engineering manager, added, "Our team have wanted to develop a product which would change the lifting industry and in particular, design and manufacture a product which is suitable for complicated circular lifts as we have seen an increase in enquiries over recent months."