Modulift's subsea spreader beams
By Christian Shelton25 September 2019
UK-headquartered global engineering company Modulift has made changes to its standard range of modular spreader beams so that they can now be used in water up to a depth of 150 metres at no extra cost.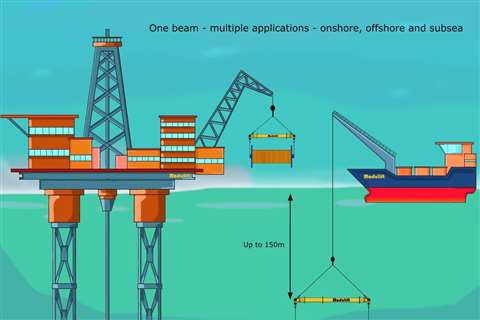 According to Modulift, due to the efficient shape and weight of its spreader beams, its engineering department has been able to improve the beams' integrity so that they can now withstand water pressures up to 50 metres, 100 metres, or 150 metres. This, Modulift said, now means the same spreader beam can be used for onshore, offshore, and subsea applications.
Four of Modulift's spreader beam series are available for subsea applications: MOD 70, MOD 110, MOD 250 and MOD 400. All new products come with a Declaration of Conformity to confirm their subsea capability so that customers know that they meet the required standard.
Modulift's technical director, Sue Spencer, commented, "Our standard spreader beams are highly efficient owing to their shape. This makes them perfect for subsea applications as the circular shape minimises the water drag and maximises the buoyancy, which is an ideal requirement."