Montabert adds crushing buckets to its range
By Lindsay Gale07 April 2010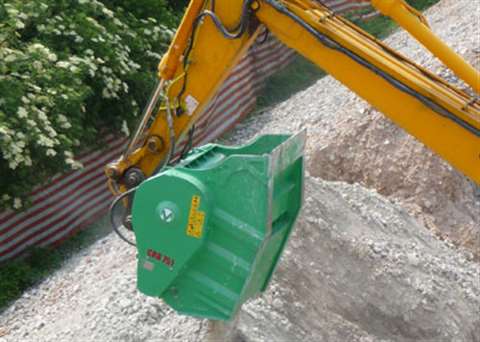 Attachment specialist Montabert has added four new crushing buckets to its line-up, intended for carriers from 8 to 36 tonnes. The smallest, the CRB501, weighs 1.5 tonnes and is intended for use on excavators weighing 10 to 16 tonnes. It offers a bucket opening of 600 x 340 mm (24 x 13.6 in) and a jaw opening from 20 to 100 mm (0.8 to 4 in).
Next in line is the CRB601, which is for use with 16 to 24 tonne carriers and weighs 2.25 tonnes. This has a bucket opening of 700 x 550 mm (28 x 22 in) and a jaw opening from 20 to 120 mm (0.8 to 4.8 in). This is followed in the range by the 3.5 tonne CRB751.
Recommended for use on carriers weighing from 24 to 34 tonnes, the CRB751 has a bucket opening of 900 x 510 mm (36 x 20.4 in) and the same jaw opening range of the smaller CRB601. A heavy duty version of the CRB751 is also available, which features a high operating weight of 4 tonnes and which is intended to be used on 25 to 34 tonne carriers.
The largest attachment in this new range is the CRB951, suitable for use on carriers weighing more than 34 tonnes. This weighs in at 4.9 tonnes, has a bucket opening of 1,200 x 450 mm (48 x 18 in) and a jaw opening range similar to the CRB601 and CRB751.
According to Montabert, only one way hydraulics are required to operate the new bucket line, making it possible to use them on a wide range of excavator makes. They can crush concrete, brick, blocks, asphalt and aggregate, as well as a wide range of other materials, making them ideal for small scale recycling on those smaller projects or larger sites where there is a limited amount of material to be processed.