More than 173,000 visited Intermat
By Sandy Guthrie09 May 2018
A total of 173,300 visitors attended the Intermat show in Paris, France, last month, with the organisers claiming that it was held "amid clear signs of economic recovery and in a distinctively business-conducive climate".
Of the total visitor numbers, show organiser Comexposium said that 30% were from outside France, from 160 countries. There were 1,400 exhibitors.
Visitor numbers were slightly down on the 183,000 at the previous edition in 2015, but it was pointed out that this year's total was achieved in spite of industrial action which affected France for several days during the week of the show.
Comexposium said the event was a "lively and vibrant event, confirming the growth perspectives of a sector driven by innovation and which has set its sights firmly on the future".
It added that construction contractors, manufacturers, suppliers of equipment and solutions, rental companies and distributors from the EMEA (Europe, Middle East and Africa) zone had seen tangible proof of a positive trend.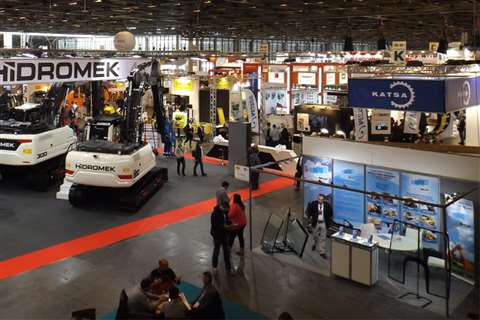 Isabelle Alfano, exhibition director, said, "At this edition, the introduction of the new business meetings service was a big success, with more than 3,000 business matches recorded, offering proof of the new-found vitality of the market, and of the pertinence of our approach linking up supply and demand."
Among new initiatives for 2018, an Intermat Rental Day was held, discussing the future of the rental market. It was a full day dedicated to the profession, and brought together nearly 200 people to discuss the development perspectives and market change in the sector.
World of Concrete Europe, held alongside Intermat, consisted of 200 exhibitors. Comexposium said that the combination of an exhibition area, an educational form and a demonstration zone allowed visitors to discover the innovative offerings of the sector, from the upstream part of the supply chain (materials, products and additives) to downstream specialities (decorative concrete, coverings and coatings, engineering and services).
The next edition of Intermat will be in 2021.