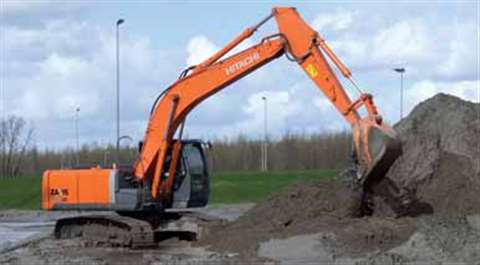 Hitachi's history in the European equipment market dates back to 1970, when it first established a sales company in The Netherlands. It was a pure import and sales operation throughout the 1970s and early 1980s until it established Fiat-Hitachi, a joint venture with Fiat's construction equipment subsidiary New Holland in 1986.
This proved to be one of the most successful tie-ups the industry has seen, becoming market leader in the European excavator sector by the mid-1990s and producing a full range of equipment. However, New Holland's acquisition of Case in 1999 to form CNH, precipitated a 'divorce' between the two groups. In 2001 Hitachi announced it would go it alone in Europe, while CNH teamed up with Kobelco and Case's existing partner Sumitomo for its two ranges of excavators.
Hitachi Construction Machinery Europe (HCME) subsequently built an assembly plant in Amsterdam for mid-sized (7 to 50 tonne) excavators, and its growth in sales over the last five years prompted it to start an extension to the facility last year. Now complete, the increased manufacturing space will raise capacity from 3500 to 6000 machines per year, and according to sales & service director Akihiko Hiraoka, this will allow Hitachi to offer a wider range of equipment.
"Next year our target is 6000 annual sales and very close to half of those will be imported from Japan. Here in Amsterdam we will concentrate on supplying European configuration machines, with the extra piping, pumps and hoses for handling attachments," he said.
"Our plan is to enlarge our current product line, with more crawler and wheeled excavators, mini excavators and wheeled loaders. Compact wheeled loaders are an important area and in 2008 we are planning to introduce a few models in this class," added Mr Hiraoka.
The company's medium term target focuses on 2010, which will be the 100th anniversary of the Hitachi Group. This international conglomerate has annual sales of € 60 billion and 41000 employees, and all its various subsidiaries are targeting significant milestones for the 2010 birthday celebrations.
Mr Hiraoka explained HCME's aims, "By 2010 we are aiming to reach a 20% market share in our main product groups – crawler and wheeled excavators. With our remaining products – mini excavators and wheeled loaders – we're aiming for a minimum 10% market share. Mini excavators are a difficult area in Europe because there are so many manufacturers that even the market leader, Kubota, only has about an 18% share."
Bauma Launches
Hitachi will launch three new short tailswing mini excavators at Bauma in the 1 to 2,5 tonne classes. There will also be an important addition to its wheeled loader range in the shape of the 129 kW ZW 180, a 2,6 to 3,1 m3 bucket machine to complement its existing models, the larger ZW220, ZW250 and ZW310.
New excavator launches include four new wheeled models from 14,7 to 22 tonnes in the shape of the ZX140W-3, ZX170W-3, ZX190W-3 and ZX210W-3. They will be joined by two similarly sized crawler models, the 17,9 tonne XZ160-3 and 22 tonne ZX180-3.
Isuzu Stage IIIA engines provide the power for all the new machines, and the excavators include an impressive list of standard equipment, such as rear-view cameras, air conditioning and GPS tracker devices to help with theft prevention and fleet management.