Morgan Sindall completes €75m concrete road reconstruction project in UK
UK contractor Morgan Sindall has completed a road project in the UK, replacing an 8km section of the A11 in Norfolk with recycled concrete.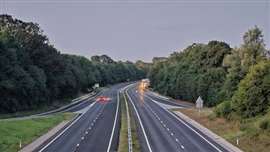 On behalf of the government-owned highways agency, National Highways, the contractor removed the old concrete surface, as well as some of its foundations, before undertaking reconstruction work, using 60,000m3 of recycled concrete.
The newly-laid concrete surface was then overlaid with 147,000 metric tons of asphalt.
One of the challenges the team encountered during the removal phase was that the existing carriageway was constructed with continuously reinforced concrete pavement (CRCP), which were reinforced with steel bars.
There were concerns that planning might not be possible for surface removal, but a multi-head pavement concrete breaker was ultimately employed to break up the surface initially, before specialised planning machines were brought in.
In addition to the use of recycled materials, the project incorporated various eco-friendly measures, such as solar-powered speed cameras and a work compound equipped with kinetic paving stones that generate energy when stepped on.
Morgan Sindall said the newly-constructed carriageway, which has a 40-year lifespan, marks a significant milestone in the effort to revitalise the UK's concrete road infrastructure.