Morris Site Machinery wins Dubai order
By Helen Wright04 October 2016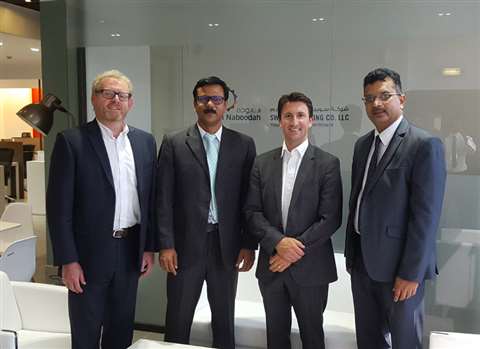 UK-based manufacturer Morris Site Machinery (MSM) has taken a step forward in growing its international presence with its first deal in Dubai, UAE, - Al Naboodah Group Enterprises company Swaidan Trading invested in 50 of its lighting towers.
MSM said it would supply the SMC TL90 LED lighting towers to Swaidan Trading in October for use on construction projects in the lead up to the Global Expo in 2020.
It said the fuel-efficient model had been specifically adapted to improve heat reflection and ensure operation in high temperatures – ideal for the Middle East territory.
The deal was sealed when Morris Site Machinery chief executive Chris Morris and international business director Phil Winnington flew out to Dubai to meet up with their new customer personally.
Mr Winnington said, "We are delighted to have begun what we hope will become a long standing, mutually beneficial relationship with Al Naboodah Group Enterprises and Swaidan Trading.
"This is an important order for us as it represents our first sales into Dubai, a territory where we are now looking to build our business. Hot on the heels of this sales success a further order for lighting towers has now been placed for this territory. Exciting times!
"We were highly impressed with the professionalism, size and scale of Al Naboodah Group Enterprises and are proud to be associated with such a prestigious company.
"The contract demonstrates faith in our great British products and service and the focus we put on quality – both the products we take to market but also the strong partnerships we build with customers. It's about understanding each other's businesses enabling each to serve the other profitably."
And Ajit Kumar, CEO of Swaidan Trading, said, "We wanted the best lighting towers to satisfy the demands of temperature and terrain in Dubai as the momentous plans for Expo 2020 take shape.
"Morris Site Machinery showed it could meet all our requirements for supplying energy-saving, quality and reliable equipment."
The fuel efficient TL90 LED lighting tower is said to be compact and easy to use, with five powerful 240W LED lamps which give a strong and even light. It has a lamp life of 50000 hours. It also features a mains changeover switch to effectively run a unit from a mains power or alternatively link three machines together using only one engine. It can function in all climatic conditions.
MSM is a privately-held UK manufacturer with four depots and service hubs supplying the hire, rail, petrochemical and construction sectors. As well as its SMC lighting tower brand, it also owns the Hilta, Denyo and ArcGen brands.
The business currently exports to over 20 countries worldwide with the largest share of the business in Australia where it has established its robust TL-90 range of lighting towers over the past 12 years.