Multi-million pound deal for Liverpool2
By Laura Hatton11 August 2014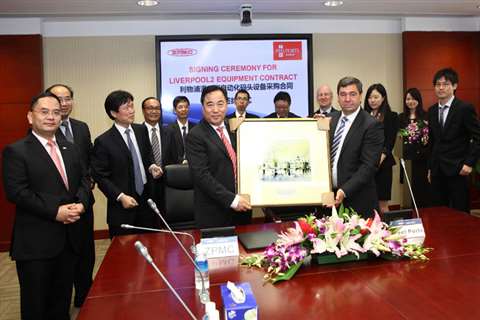 Peel Ports has signed a £100 million (US $167 million) contract with crane manufacturer Zhenhua Heavy Industries Co (ZPMC) for eight ship-to-shore (STS) megamax quay cranes and 22 cantilever rail-mounted gantry cranes (CRMGs).
The contract forms part of a £300 million ($503 million) investment by Peel Ports Group in the Liverpool2 development project at the Port of Liverpool in Liverpool, UK. A UK service centre will also be set up by ZPMC in Liverpool, a company spokesperson said.
The cranes will allow the port to handle two 380 metre vessels simultaneously and will be fitted with semi-automated remote-control, a spokesperson said.
Mark Whitworth, Peel Ports chief executive, said, "This signing represents a significant investment for the long term and the most important investment at Port of Liverpool in the last 20 years. It will help position Liverpool2 as one of the fastest most efficient container ports in the world, allowing over 90 % of the global fleet to be handled at Liverpool, making it a real game changer for shipping lines.
"It's a great pleasure to be here in Shanghai to sign this important agreement with ZPMC because it is a significant part of the transformation of Port of Liverpool. ZPMC are doing much more than supplying cranes. They are helping us to deliver a project aimed at changing the logistics flows in the UK, where the Port of Liverpool is currently the third largest container port and strategically important to trade with China.
"Liverpool2 has a considerable advantage over its competitors as it has 10 motorways located within 10miles and is uniquely connected to the Manchester Ship Canal, which stretches 44 miles from the Port of Liverpool to Manchester, connecting deep sea cargo with the inland container hubs.
"Logistically cargo can be moved much more fuel and carbon efficiently. Very few other terminal operators in the UK have such connectivity, and these combined services offer some of the best value door-to-door shipping costs that cargo owners will find."