Multitel re-enters Polish market
By Leila Steed13 February 2023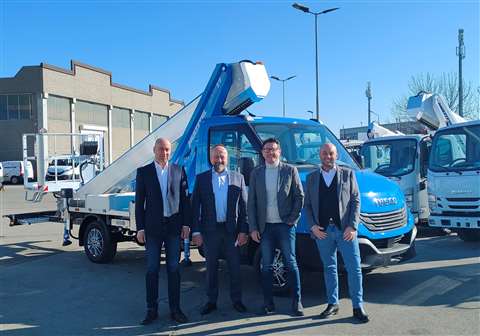 Italy-based Multitel Pagliero has appointed a new equipment dealer in Poland, as part of its continuing expansion in Eastern Europe. 
The truck mount manufacturer recently signed a deal with Windex; a family-run business headquartered in Chojnice, to the southwest of Gdansk. 
Established in 1989, Windex operates five branches across Poland. As well as offering equipment from brands including Genie, Ommelift, Haulotte and Versalift, the company also provides MEWP operator training. 
Roberto Marangoni, Global marketing and international sales director at Multitel Pagliero, "Windex represents the best choice, both in terms of common values and growth ambitions.
"Knowledge, expertise, and a widespread presence in the territory are a solid base from which to develop the sales and support of the entire Multitel Pagliero range in Poland".
Windex's appointment will see it offer Multitel's range of scissor lifts and telescopic and articulated aerial platforms for rental. It will also be responsible for equipment sales.
Andrzej Aszyk, owner of Windex, said, "We at Windex are excited to start this new venture with Multitel.
"Multitel's product range and the production versatility of the eight plants in Italy will allow us to cover all the opportunities on the local market and satisfy any customer need."
The appointment of a Windex comes two years after the manufacturer terminated its distribution agreement with its previous dealer in the country, Multitel Polska.
Multitel parted ways with Multitel Polska - after a 40-year-long collaboration - in October of 2021, as part of a reorganisation of its distribution network.
Over the past 12 months, Multitel's reorganisation and expansion has seen it appoint new distributors for Slovakia, Czech Republic and Hungary.
In January of 2023 the manufacturer also expanded into the South American equipment market, naming FA.Ro Italian Technology as its dealer for the region.
Photo from left: Michal Bohowicz (Head of sales and marketing Windex), Andrzej Aszyk (Owner Windex), Roberto Marangoni (Global marketing and international sales director Multitel Pagliero), Mirko Rebuzzi (Distribution manager Multitel Pagliero).