Munich build for Riedel Bau
By Laura Hatton25 July 2014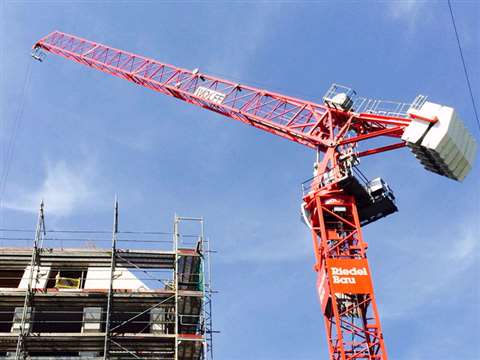 General contractor Riedel Bau, based in Lower Franconia, Germany, has rented a Wolff 166 B from Wolffkran to help with the construction of a new building in Maximiliansplatz, Munich, Germany.
The Wolff 166 B has a lifting capacity of 12 tonnes in 2-fall rope configuration, a tip load capacity of 3.4 tonnes with a 45 metre jib and a maximum hoisting speed of 87 metres per minute. To carry out lifts at the site the crane has a 45 m jib radius and a 25 m tower height.
"The site is very cramped on all sides," explains Ulrich Langenbein, Wolffkran deputy sales director in Germany, regarding the biggest challenge of the project. "With construction work underway on adjacent sites, there are cranes all over the place that we have to watch out for."
Norbert Zährl, site manager for Riedel Bau, adds, "Because of its design, the Wolff can slew in the minimum of space without projecting beyond the site, meaning that we can work without any danger of collision. There is also no danger when the crane is not in use owing to the very steep out-of-service position of the jib."
The construction project is due for completion in 2015.