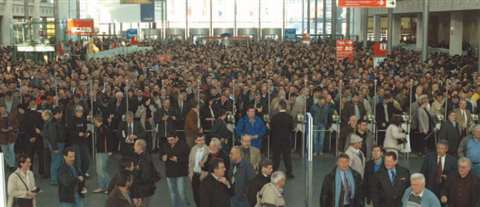 Bauma is an unrivalled opportunity to look over the latest products from the world's major manufacturers of cranes, specialized transport and construction equipment. Nowhere else will you find a larger collection of new machines on show. This applies as much to the crane and transport sector as it does to the earthmoving machines and other construction equipment at the Munich showground at the end of April.
This year's show – seemingly like every other Bauma in memory – will be bigger and "better" than the previous one, according to the organisers. The demand for space this year is considerably higher than at Bauma 2004, with an extra 30,000 m2 of exhibition space taking the total to 530,000 m2.
This extra space will be used in some interesting ways, such as helping to accommodate exhibitors from the surging economies of China and India. The space allocated to Chinese manufacturers is five times greater than in 2004; four times more for India; and five times more for Japan. Bauma says exhibitors from Austria, Luxembourg, Turkey, Korea and Greece have doubled their demand.
The growth reflects the generally buoyant construction equipment markets worldwide, and in particular the importance of the European market. Germany is a powerful attraction to equipment suppliers – three quarters of the more than 410,000 visitors in 2004 were from Germany, and the improved market conditions in Bauma's home country will have provided an added incentive to many exhibitors. That said, Bauma in Munich is a genuinely international show, with more than 120,000 visitors from outside Germany at the 2004 event.
Visitors will have plenty to see. The March issue of International Cranes and Specialized Transport will contain a comprehensive guide to the equipment that will be on show. If you need convincing that you should attend, then consider just a few of the planned attractions and product launches, including new all terrains from all the major manufacturers and a new 300 tonne crawler. Also on show will be new truck mounts and knuckle boom loader cranes, specialized transport equipment and components.
Spectacular show-stopping machines on show will include the new Grove GTK1100, Liebherr's 1,350 tonne capacity LR 11350 crawler and its new 1,000 tonne capacity telescopic wheeled mobile crane.
As at the last show, the largest display will be Liebherr Group, which, at its home fair, will have more than 75 exhibits from its full range of construction machinery on its stand of more than 13,000 m2. On show from the crane ranges will be twelve mobiles, five crawlers and nine tower cranes.
It will be an impressive exhibition and well worth a visit. Going to Munich takes some planning, of course, so this preview offers some information on how to get to Munich, how to book hotels, and the benefits of early registration. A little advance planning is well worth it – for one thing, you may avoid having to stay in a hotel 60 km from the city.