Nationwide triples tracked fleet
By Euan Youdale14 March 2017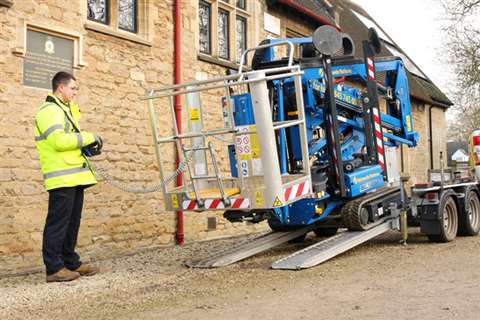 UK-based Nationwide Platforms has more than tripled its fleet of track mounted platforms after taking delivery of a further 64 machines.
Comprised of 56 Hinowa and eight large Teupen tracked boom lifts, the investment means Nationwide now has a 100 tracked lifts in its fleet.
The new Hinowa Performance IIIS', which join 36 Hinowa lifts purchased in 2016, offer working heights of 15.4, 17, 20 and 25.7 m. Available with either a diesel engine or Lithium-Ion battery pack, features include 230kg unrestricted platform capacities, compact dimensions and the ability to pass through standard single and double doorways.
This investment ensures Nationwide Platforms has the largest fleet of Hinowa tracked booms in the UK and the largest fleet powered by Lithium-Ion battery technology. Eliminating the need for a combustion engine or electric cables, Lithium-Ion technology provides quiet and emission free operation and can be fully charged in four hours and to 80% in just two hours.
Peter Douglas, Nationwide Platforms operations director and head of the company's specialist division, said, "We have experienced fantastic success since launching our Tracked Boom division last year. Originally covering the South East region with 36 machines based at our Luton depot, it was always the plan to expand the division to provide a national coverage and support for our customers this year."
Nationwide Platforms has also extended the maximum working height of its tracked boom lift fleet with the inclusion of eight Teupen Leo31Ts. They offer a working height of 31 m, 250kg platform capacities and a maximum outreach of 17.7 m. Designed with operator safety and functionality in mind, features include variable outrigger settings, wireless remote control, height and width adjustable tracks and home/memory capabilities.
Craig Rooke, Teupen sales director UK & Ireland, said, "The new T-Series has amazingly surpassed the old series with many class leading features and with huge outreach and operator features similarly found only on truck mounts so to bring this technology in to tracked platforms our engineers have done a great job."
The machines were supplied by distributor APS, part of the IAPS Group.