New 120 tonne XCMG AT crane for Europe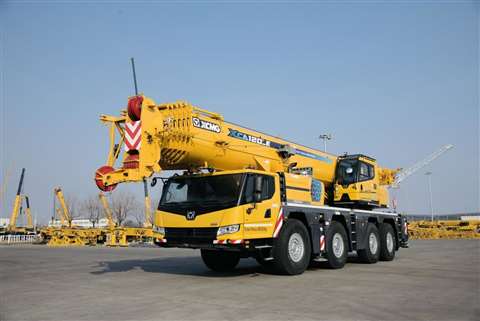 Chinese manufacturer XCMG has a new 120 tonne capacity all terrain crane for sale in Europe.
XCMG said the 120 tonne rating is calculated at 2.5 metres radius. At 3 metres the crane lifts 80 tonnes.
The XCA120 E on its four axle carrier has a 66 metre boom in six sections. An 11.65 to 18.5 metre, offsetable bi-fold swingaway jib can be added. Putting a pair of 7.1 metre lattice extensions in between the end of the boom and the swingaway gives a maximum tip height just beyond 96 metres. Maximum working radius is given as 60 metres.
An MTU diesel engine powers both the carrier and the crane upper. It has a ZF TraXon transmission with 12 forward speeds, driving the three rearmost axles. A retarder is also standard as is all wheel steering. XCMG said it has independent suspension "similar in overall concept to that used by Grove."
Depending on tyre choice the crane's overall width can be kept down to 2.75 metres. Overall length is given as being just over 14.3 metres.
Including their fully retracted position, the outriggers can be set at five spread widths: 3.83, 5, 5.9, and 7 metres. Maximum total counterweight is 33 tonnes, made up from eight slabs to allow multiple configurations.
June sees the official unveiling of the XCA120 E at the JDL Expo crane, transport and aerial work platform show in Beaune, France.