New academy for Sennebogen
By Laura Hatton27 May 2014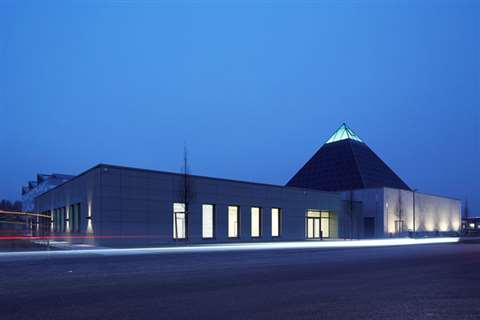 Crane manufacturer Sennebogen opened the Sennebogen Academy and the Erich Sennebogen Museum at a special opening day in Straubing, Germany.
The new academy includes a machine training centre, demonstration site, training rooms and conference rooms. It comprises three training halls. Training is available for service technicians, fitters and maintenance personnel. As part of the training, students will be trained on different Sennebogen models as well as receiving advanced training.
The demonstration site offers students the opportunity to work in real-life conditions. Included in the demonstration area is a harbour site with bulk goods and a range of material handling machines and their attachments. There is also a scrap yard with 150 tonnes of steel scrap that trainees can practice on. During this level of training, topics, such as fuel-saving, handling, and efficient use of resources can be demonstrated, a company spokesperson said.
As part of the academy training, Sennebogen is working with German universities in Regensburg and Deggendorf and is also offering a dual course of study in the field of mechatronics. Currently the company is offering training for 12 regulated trades.
The museum, inside a pyramid-shaped building, houses a collection of Sennebogen models spanning the company's 60 year history. The building will also offer facilities for events, conferences and formal balls.
Erich Sennebogen, Sennebogen CEO, said, "With the opening of our Sennebogen Academy we are investing in the future. Instruction and training are the supporting pillars of every enterprise. We are building on well trained employees and dealers and we are also offering our customers the perfect environment to even better experience our machines. At the same time the Erich Sennebogen Museum ventures to look back to the roots of the family-run enterprise, Sennebogen."