New ADTS from John Deere
By Andy Brown29 September 2020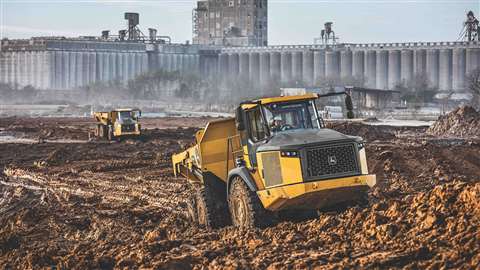 John Deere has introduced a new range of Articulated Dump Trucks, the E-II, for the US and Canada.
The models, including the 410E-II and 460E-II, have a redesigned dump body, updated operator station, and new drive and transmission retarder modes.
John Deere says that the three standard drive modes — Normal, Eco and Traction — help to optimise the drivetrain and reduce inputs from the operator. The Normal mode provides the same features found on the E-Series, while reducing fuel burn by up to 7% compared to the existing models.
With Eco mode, the system reduces fuel consumption by smoothing throttle input and reducing maximum rpm. When conditions allow, Eco mode can improve fuel consumption by up to 12% compared to E-II Normal mode.
The Traction mode helps the operator to maintain tire traction in soft underfoot conditions, automatically engaging the differential lock to minimise wheel spinning, and increases traction. To improve the function of the automatic differential locks, new wheel speed sensors have been added.
"The new E-II trucks combine the most popular features of the E-Series line with customer-driven performance and operation enhancements, resulting in a machine that is easier and more cost-effective to operate," said Cory Ouellette, product marketing manager, ADTs, John Deere Construction & Forestry.
"With the three standard drive modes, new body design, operator station enhancements and improved fuel burn, the E-II Series trucks provide customers with a reliable and durable, yet easy-to-operate, solution that positively impacts their operation and their bottom line."