New asphalt pavers from Ammann
By Joe Malone15 December 2017
Switzerland-based manufacturer Ammann has launched a new range of asphalt pavers, said to be technologically advanced.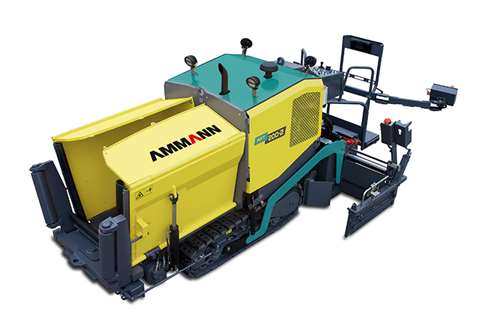 The new range includes 17 models, with tracked and wheeled versions available, while the screed options include tamping/vibrating, high-compaction and rigid-frame. From the 17 models, there are three major size groups: compact pavers (including the mini paver), city pavers and large pavers.
The compact pavers have production capacities of 300 tonnes/hr and maximum paving widths of 3.1m. The company said that when space was particularly tight, it offers the unique AFW 150-2 mini paver, with paving widths as narrow as 250mm.
The four city paver models can place 350 tonnes per hour with maximum widths of 4.7m. The company said their mobility and size made them great tools for urban jobsites and inner city applications where smaller roads needed to be placed fast.
The large pavers, meanwhile, can reach 1100 tonnes of hourly production with maximum widths of 14m. Ammann said the machines were well suited to large jobsites where quality, speed and large paving widths were the main focus.
All the models will be available globally.
Christian Schneider, CEO of Ammann Group, said, "With this launch, Ammann shows its ongoing commitment to the roadbuilding segment. Our product line of asphalt and concrete plants, compactors and light equipment is highly competitive.
"The addition of a full line of premium asphalt pavers will extend our extremely strong, complete product offerings. Together with our line of Apollo pavers, we now have the most comprehensive line of asphalt pavers in the industry."