New beam and depot from Layher
By Euan Youdale25 September 2015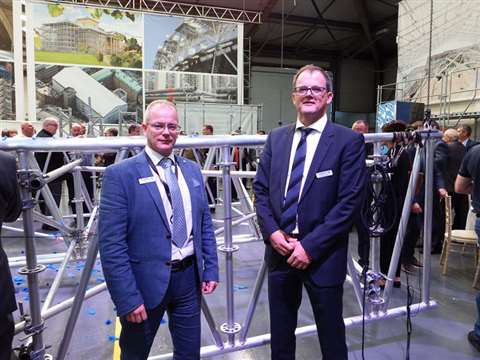 Layher has held a customer open day on 24 September at its UK headquarters, where it announced the launch of a new heavy duty beam and a new depot.
The aluminium Universal Modular Beam is designed for the UK market and will be available during the fourth quarter of this year, it said.
The beam option connects directly to Layher's Allround system and tube and fitting scaffolding. It has a 1.25 m depth and 60 mm top and bottom chords, and will be available in a range of lengths.
The all-aluminium structure features rosette connectors on the vertical posts' centre points, allowing it to be lined up and applied to system scaffolding.
According to Sean Pike, Layher UK managing director, the beam is lightweight and easily transportable, and has been in the planning stages for two to three years following requests from UK customers.
He explained the product is also designed for use in the events sector and thanks to a range of adapter pieces can easily be constructed into mezzanine flooring and dance floors, for example.
The Universal Modular Beam can also be used to construct dome structures of 35 m and above, thanks to a range of ridge beam connections.
Mr Pike also used the open day to announce the opening of a new UK depot in Birmingham next year.
The new Midlands depot will supplement the head office in Letchworth and the regional facilities in Scotland and North Yorkshire - it launched its most recent depot in Eggborough last year.
The plan is to be closer to UK customers, allowing them easy access to the six months' worth of stock held in the UK.