New bucket tooth system launched by MTG
By Andy Brown26 October 2022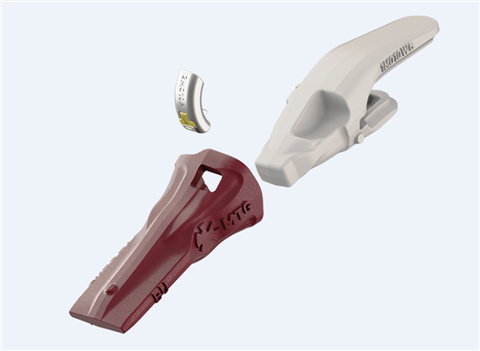 MTG has launched a new fully hammerless solution for small construction machines at Bauma.
The bucket tooth system, called COMET, has been especially developed for digging applications of excavators under 15 tonnes, mini loaders, and backhoe loaders.
Speaking to KHL, the company said that the main markets for the product are France, Germany, the UK and North America and that they were currently working on increasing the digital solutions for their products in line with market demands.
Available in sizes 5, 8, 10 and 15, the company says that its new features, such as locking system that is fully hammerless and that can be accessed completely from the top, gives users higher productivity, maximum reliability, and a longer operational life.
The new fitting design is said to feature 30% larger contact areas providing more stability, reducing plastic deformation, while the entire kit design optimally protects the adapter, locking and welding seams from wear caused by material flow, increasesing wear life.
It features a symmetrical, reversible tooth that allows for two mounting positions. In the event of premature wear on one side, it is possible to invert the tooth's position to extend its durability.
The teeth benefit from a self-sharpening design, offering a high level of penetration for improved machine efficiency and improving penetration throughout the tooth's wear life, contributing also towards an increase in the machine's productivity.
A range of tooth and adapter designs will be available in sizes 5, 8, 10 and 15 that are especially dedicated to all types of digging applications of excavators under 15 tonnes, mini loaders and backhoe loaders.
The first batch of sizes and designs is already available and the range and MTG will progressively introduce the entire COMET range to the market in the next months.