New colour scheme for Finlay equipment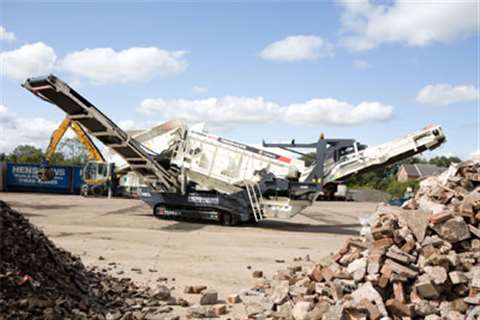 The first machine off the Terex Finlay production line sporting the company's new all-white livery has been delivered to waste management operation Henshaws, based in Macclesfield, UK. The new livery is being progressively introduced to Finlay's product line to replace the old orange colour scheme.
The first machine in white is a 883 reclaimer, which joins two other 883s in Henshaws equipment fleet that have allowed the company to achieve 90% recycling rates, processing soil, bricks and hardcore to produce 10 mm top soil, crush and run and oversized materials for crushing.
Joe Henshaw, founder and managing director, said of the 883 machines: "The 883 has transformed our operations here. We've found it work all year round and it is capable of dealing with skip waste direct. We've also been able to reduce the amount of fines going to landfill."
The 883, with a maximum production capacity of 500 tonnes per hour, works as an aggregate screen after a primary crusher or as a stand-alone screening machine. Applications include the processing of quarry waste, construction and demolition debris, topsoil and aggregates. The new machine supplied to Henshaws features longer conveyors to further enhance its stockpiling capability and allow the company to achieve even greater recycling rates.