New D.C. metro line opens
By Chris Sleight31 July 2014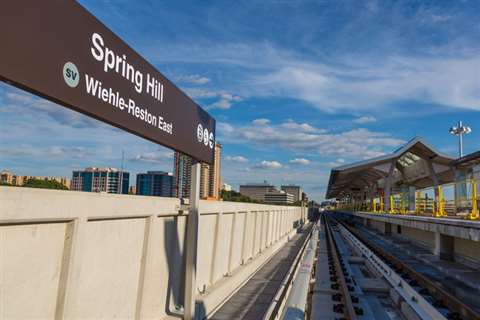 A new 11.7 mile (18.8 km) metro line has been opened in Washington D.C., US. Built by a consortium led by Bechtel, Phase I of the Dulles Corridor Metrorail Project (the Silver Line), was one of the largest and most complex urban rail projects in the US.
Peter Dawson, president of Bechtel's global civil infrastructure business said, "To build a project of this scale safely in such a busy urban environment is a testament to the dedication and skills of everyone involved. Collaboration with our customer, local businesses, and the community has been integral to the project's success and we thank them for their support."
The US$ 1.6 billion project was awarded to a consortium comprising Bechtel Infrastructure and Washington Group International in 2007 on a design & build basis. This sum was incorporated into the total project price, which at the time was put at US$ 2.4 billion – US$ 2.7 billion.
The line with its five stations connects the city's western suburbs to the existing metro network. Phase II of the project will extend the Silver line further West to the Dulles International Airport and beyond.
Among the construction challenges on the project were constructing 6 miles (9.75 km) of elevated track, while a tunnel was also constructed under one of the city's busiest shopping districts.