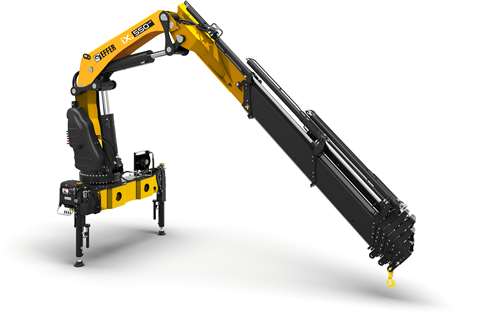 Manufacturer Hiab has launched three new Effer hydraulic loader crane models between 32 and 110 tonne-metres.
The new 110 tonne-metre iQ.1200 HP, 51 tonne-metre iX.550 HP and the 32.1 tonne-metre iX.355 HP are global market models. All offer lower fuel consumption and the new SpaceEvo operating system to improve productivity and allow safer operation, Hiab said.
"We are proud to introduce three new Effer loader cranes that widen the choice of lifting capacities available to our customers. The new operating system SpaceEvo ensures that the cranes have 'best in class' performance and safety features," said Marcel Boxem, Hiab director, global product management, loader cranes, heavy and super heavy.
"The new cranes also help our customers to lower their emissions by weight reduction and reducing the energy consumption. Overall lower vehicle weight leads to more net payload for the customer," Boxem continued.
Extra safety features
The standard XS Drive remote control can be substituted with the new CombiDrive 4 remote control as an option. New safety features include Confirm View to find the best field of view. Three high definition and bright colour displays and a long-lasting battery with single-user operator personalisation settings, complete the picture.
Versions for non-CE markets have the Space X4 control system and the optional CombiDrive 3 remote control.
The largest new model has a dodecahedral (12 sided) boom and jib profile. It allows use of a lighter and smaller frame, increasing payload and allowing mounting on four axle trucks.
On the 51 tonne-metre model versions with six to eight extensions, there is the option of a jib type 150X-6. The smallest model's five and six extension versions can have the jib 70X4. Like the others it has a variable displacement pump offering better flow performance and improved fuel consumption, Hiab said.