New electric tracked carrier from JCB
By Thomas Allen27 August 2020
JCB has added to its E-Tech line with the introduction of a new electric version of its HTD-5 Dumpster tracked carrier.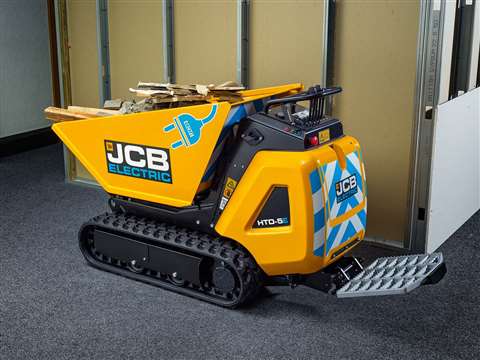 The new high-tip, walk-behind HTD-5e E-Dumpster has a capacity of 500kg and a ground clearance of 1,450mm in tipping position.
Its electric drive makes it particularly suitable for urban and indoor applications, where there might be restrictions on noise and air pollution.
Powered by a 48V lithium-ion battery pack that can be recharged within 2 hours using a standard 240V or 110V electrical supply, the E-Dumpster can travel at speeds of up to 3km/h.
JCB says service and maintenance requirements are significantly reduced due to the lack of an internal combustion engine.
The new model joins JCB's growing range of electric equipment, which includes the 19C-1E electric mini excavator and the 30-19E Teletruk industrial telescopic forklift.
JCB's Power Products division also offers electric powerpacks, to provide recharging facilities for electric machinery in off-grid applications.