New Genoa bridge emerges after tragedy
By Mike Hayes08 October 2019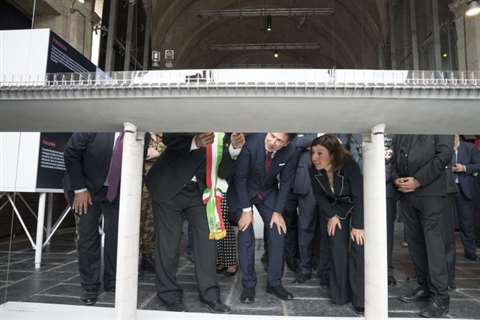 A pair of cranes used to dismantle the old Morandi bridge in Genoa, Italy, have now lifted the first span of the new viaduct into place – little more than a year after the disastrous collapse that saw 43 people lose their lives.
The consortium PerGenova, comprising Salini Impregilo and Genoa-based Fincantieri Infrastructure, was tasked with building the replacement structure, and, on October 1, welcomed senior city, regional and religious dignitaries to its inauguration.
During the ceremony, the 50m-long span, weighing 500 tonnes, was placed on piers 5 and 6, to become the first element of the new Spazio Ponte's deck. The coming months will see 18 more spans placed, as the bridge continues to take shape.
During the emotional event, Pietro Salini, CEO of Salini Impregiol, said, "We are dealing with a highly symbolic work."
Giuseppe Bono, CEO of Fincantieri, said, "We have kept a promise made less than twelve months ago. That is, to work well, and to work quickly. We have made it as an act of gratitude for a city we consider home.
"We are a Genoese company," he said, "and we have this land in our DNA. However, the entire Italy is working on this bridge, with steel coming from our sites, from Veneto to Campania, with over 1,000 people including technicians, engineers and workers from all over the country, a single great team that shares successes from North to South and overcomes challenges together."
Pietro Salini said he considered the construction of the new bridge to be a model that should be exported to the rest of the country.
"This is considered the country of blocked construction sites," he said, adding, "We have €36 billion in works blocked in Italy – this means having jobs, development, growth of young people blocked as well.
"Yet, this work shows that infrastructures can be built in Italy. And that they can be done quickly and transparently, while maintaining a very high-quality standard. Therefore, Genoa has become a symbol and a precedent for the rest of the country.
"What we are going to build," he said, "is a hyper-technological bridge, sustainable because it is able to power itself, safe, delivered to the citizens in record time, and built in the first totally transparent construction site in the world, with webcams active 24 hours a day, seven days a week.
"A construction site that we have decided to open to children, with visits from primary and secondary schools in Genoa, and to the citizens as well: thanks to the Spazio Ponte, a permanent exhibition set up in the Porto Antico, they will in fact be able to participate in the construction of this beautiful infrastructure."