New GMK cranes from Manitowoc
By Laura Hatton27 July 2015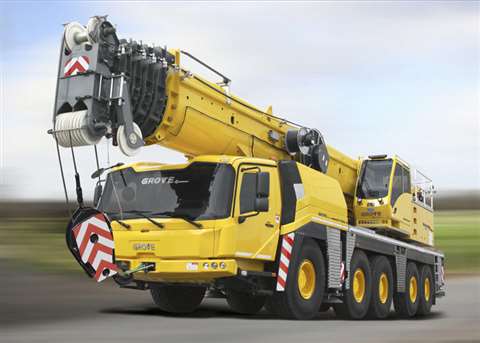 Crane manufacturer Manitowoc has launched another two five-axle Grove all terrain cranes, the GMK5180-1 and GMK5200-1.
They join the GMK5250L launched in April 2015. The GMK5180-1 has a 180 tonne capacity and 50 tonnes maximum counterweight. The GMK5200-1 has a 200 tonne capacity and 70 tonnes maximum counterweight. Both models have a 64 metre main boom, which can be extended with two 8 m inserts and an 18 m swing-away jib.
Like the 250, both the others have a VIAB turbo retarder clutch, Megatrak independent suspension and are powered by a single Tier IV Final / Euromot 4 Mercedes-Benz OM471LA six cylinder diesel engine. They are designed to meet various axle-load regulations and for axle loadings of up to 16.5 tonnes, the cranes can move on the road with up to 21 tonnes of counterweight, the manufacturer said.
For ease of use on site, they can move with full counterweight. Slabs are interchangeable and the self-rigging auxiliary hoist from the GMK5250L can be used on both new models. All the cranes have the new Crane Control System (CCS) with common controls, inputs and displays.
Jens Ennen, Manitowoc senior vice president for all terrain and truck cranes, said, "The addition of these new five-axle Grove all terrain cranes means we can offer our customers the widest choice in terms of boom length and capacity.
"All terrain cranes in this class are highly popular for rental work and well-suited for all kinds of jobs from construction, to industrial lifts and tower crane assembly. The new GMK5180-1 and GMK5200-1 cranes offer all the technical benefits of the GMK5250L, including the excellent manoeuvrability provided by the VIAB turbo clutch as well as the interchangeability of counterweights with the GMK6300L for better versatility."
Delivery of the new models starts in the fourth quarter of 2015.