New GMK6400 for Markewitsch
By Laura Hatton29 July 2014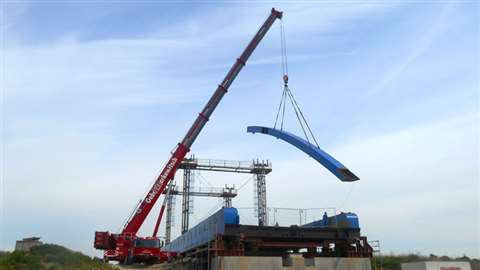 German crane rental company Gebr. Markewitsch has taken delivery of a 400 tonne capacity Grove GMK6400 wheeled mobile telescopic crane.
Gebr. Markewitsch's new GMK6400 is the 50th one to be produced by Grove. The six-axle all terrain has a 60 metre boom, the reach of which can be extended to 134 m with a luffing jib. In addition, it has all-wheel steering, the MegaDrive hydrostatic drive system, a four driven axles and 16.00 R25 tyres.
Wolfgang Markewitsh, Gebr. Markewitsch managing director, said, "The deciding factor to purchase this crane was its universal applicability and its easy roadability in Germany. With an excellent load chart and numerous industry-leading features, the Grove GMK6400 is clearly the most innovative crane in its class. Having now completed its first job, which took just two days, we are convinced it is the best crane for our business."
Dieter Popp, Manitowoc regional sales manager, said, "Many cranes in this class are severely overweight – but with Grove, you get what you see, and our GMK6400 is well within all relevant road laws and limits."
The GMK6400 joins more than 40 cranes in the Gebr. Markewitsch fleet. Its first job was lifting 40 tonne pre-fabricated steel bridge sections that measured 18 m long, at a job site near Nuremberg, a company spokesperson said.