New Hiab building material cranes
By Christian Shelton11 September 2018
Swedish on-road load handling equipment provider Hiab will launch its new building material crane models at the forthcoming IAA exhibition, which will take place in Hannover, Germany, from 20 to 27 September.
The three new models comprise the L-HiPro 145, L-HiPro 195 and L-HiPro 235, which have capacities between 13 and 20 tonnes.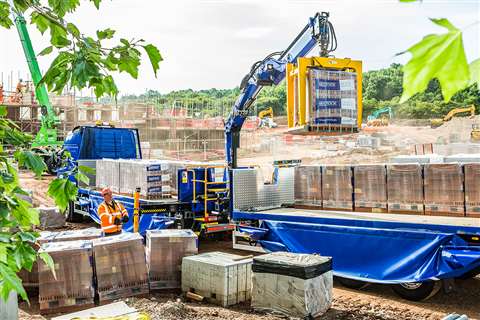 The new cranes will have the Hiab HiPro remote control system, Crane Tip Control (CTC), and its Load Stability System.
Hiab says the remote control system is designed to provide fast and smooth responses and it supports a high number of simultaneous movements. The company added that its CTC lets even novice operators perform complicated movements, while the Load Stability System automatically compensates for unintentionally excessive lever operation.
The new building material crane models have also been designed for easier day-to-day maintenance, said Hiab, with key parts and components being easily accessible.
Hans Ohlsson, director of medium range cranes at Hiab, commented, "the end result is a crane that offers the operator the possibility of delivering more during the day."