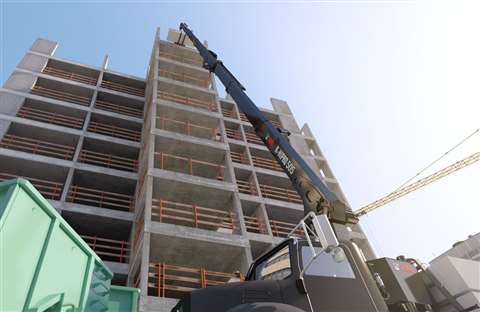 A range-topping Hiab drywall crane has been launched for US and Canadian markets. Cargotec's Hiab crane and materials handling equipment division, has launched the K-505 HiPro to deliver dry wall sheets to the point of use on construction sites.
The truck mounted hydraulic loader crane will reach nine floors up and has a maximum load moment rating of 300,000 pounds-feet. It tops the drywall crane range which includes K-HiPro 285 and K-HiPro 425, with reaches of four and six storeys, respectively.
Hiab drywall cranes have remote control as standard. Other features include LSS (Load Stability System for vertical movements), VSLplus (Variable Stability Logic Plus) and ASC (Automatic Speed Control) to improve operator safety and productivity. Future proofing includes network connectivity for Hiab Connected Services, for example, HiConnect.
Commenting on his new model, Marcel Boxem, Hiab director for the heavy crane range, said, "Hiab K-505 HiPro allows our customers to be more productive than ever as it can install drywall rapidly in buildings up to nine storeys high. The technological advanced features and remote control let even less experienced operators get a smooth and precise response from their cranes. As it's connected, fleet owners have the option of receiving performance data to optimise their vehicle fleet and service alerts based on actual usage."