New home for Plantworx
By Sandy Guthrie15 February 2018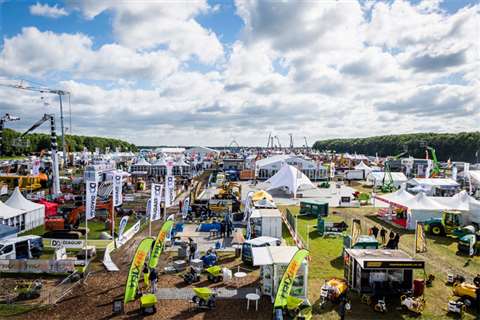 The data-driven manufacturing and operating revolution facing the construction industry is being discussed at a conference to be held in London, by the UK's Construction Equipment Association (CEA).
Under the title Innovation is Here, the conference will be held on 22 March, 2018.
Meanwhile, dates for the CEA's next Plantworx exhibition have been announced, along with a new venue. It will be held at the East of England Arena & Events Centre, Peterborough, UK, on 11 to 13 June, 2019.
The last two editions were held at the Bruntingthorpe Proving Ground, near Lutterworth, Leicestershire, and Plantworx 2017 attracted 400 exhibitors and an attendance of approximately 13,000.
Plantworx 2019 will occupy a gross area of approximately 200,000m2 – approximately 40% more than 2017.
CEA chief executive Rob Oliver said, "The last Plantworx show was blighted by the weather, so we were looking for somewhere that would provide a good opportunity for a better exhibitor and visitor experience whatever the weather.
"Inside exhibitors can be accommodated in the purpose-built arena and outside there are more permanent roadways and facilities for visitors."
Industry 4.0
For its London conference in March, the CEA said that artificial intelligence (AI), Big Data, the Industrial Internet of Things – collectively known as the Fourth Industrial Revolution or Industry 4.0 – were changing the way the construction industry did business. It said digitisation was boosting productivity, increasing machine operating performance, improving safety and changing the way business was done.
The CEA's conference will explain how a company can embrace the digital opportunities, it said.
The keynote speaker will be Inma Martinez, venture partner data sciences and product innovation at Deep Science Ventures, addressing The Future is Now – Data Mining, AI and Behavioural Learning.
Other speakers include Professor Rab Scott of the Advanced Manufacturing Research Centre with Boeing talking about The Factory of the Future; Duncan Riding, business development engineer at Perkins, on Fuels of the Future; Dale Hawkins and Mark Kennedy, UK operators, who will look at A View from the Cab/Augmented Reality Training; and Jenny Elfsberg, director of emerging technologies at Volvo Construction Equipment, Sweden.
After the conference there will be a celebration dinner. The conference will be held at One Great George Street, Westminster, London SW1, and more details are available from the CEA at www.thecea.org.uk.