New Infrastructure Cloud and iTwin options from Bentley Systems
By Andy Brown16 November 2022
At its 2022 Year in Infrastructure Conference in London, United Kingdom, Bentley Systems announced the Bentley Infrastructure Cloud and new capabilities of its iTwin Platform.
At the event leading figures from the company commented that, while data files had a place and would remain important, the company was looking to move to a more 'data centric' approach that would help eliminate data silos and improve collaboration, productivity, and quality.
Greg Bentley, CEO of the company, commented that construction technology accelerated during the pandemic and that, "Infrastructure has more to gain from going digital than almost any industry." He added that digtisation was a way for the industry to address both the lack of skilled workers and the sector's sustainability goals.
The company says its Infrastructure Cloud is a combination of enterprise systems that span the end-to-end lifecycle and value chain of the world's infrastructure. Powered by the iTwin Platform and Bentley's infrastructure schemas, it will enable better creation, delivery, and ongoing operation of better infrastructure, through complete and evergreen digital twins.
The Infrastructure Cloud will encompasses ProjectWise, for project delivery, SYNCHRO, for construction, and AssetWise, for asset operations. These enterprise systems now leverage digital twin technologies, powered by iTwin, to open up data contained in engineering files through automated and intrinsic mapping to Bentley's infrastructure schemas.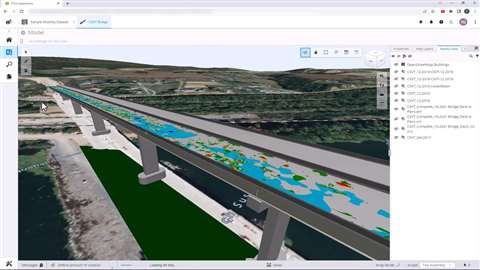 Greg Bentley said that the products in the iTwin Platform – which was first introduced in 2018 – now had "more horsepower" which allowed them to extend the scope and interoperability of infrastructure data that engineering firms and owner-operators can use to create and leverage digital twins in design, construction, and operations workflows.
The new products are iTwin Experience, Capture and IoT. iTwin Experience is a new cloud product to empower owner-operators' and their constituents' insights into critical infrastructure by visualizing and navigating digital twins.
iTwin Capture is used for capturing, analysing, and sharing reality data. It enables users to create engineering-ready, high resolution 3D models of infrastructure assets using drone video and survey imagery from any digital camera, scanner, or mobile mapping device. iTwin IoT is used for acquiring and analysing sensor data, enables users to incorporate Internet of Things (IoT) data created by sensors and condition monitoring devices.