New leadership at Palfinger Platforms
By Euan Youdale12 May 2015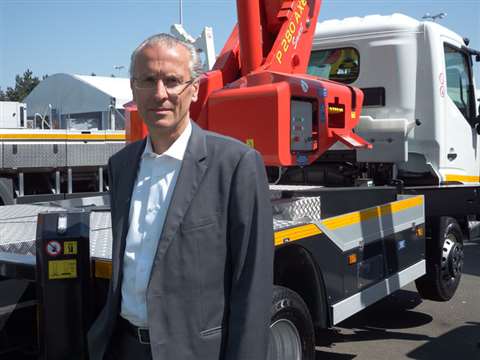 The new leadership of Germany-based Palfinger Platforms GmbH has been confirmed with the appointment of two managing directors with growth in North America being one of their first major objectives.
Christian Eiring is in charge of sales and service, while Sebastian Simon heads up finance and technology development. Mr Eiring was previously a director with Volvo Trucks; Mr Simon comes from Bosch Rexroth where he was in his role as director responsible for benchmarking and restructuring.
The company's previous managing director Stephan Kulawik stepped down last year.
Thomas Perkmann, who, in his role as general manager of EME, was interim managing Palfinger Platforms until the recent appointments were made, explained it was common for German companies to have two managing directors. Mr Perkmann further said, "There are some issues with production, and we have to look at how we approach the market with Palfinger Platforms Italy."
Palfinger Platforms Italy is a partnership set up in 2013, which concentrates on compact truck mounts in the 3.5 tonne GVW range.
North America is one of the big projects. "We are looking to change the business model. In the past we have mounted all platforms in Germany and shipped them worldwide," explains Mr Perkmann.
This included sending North America chassis to Germany and returning them with a platform installed. The plan is for Palfinger's North American subsidiary to mount them locally.
"We are in a position to create the market for big platforms in North America, which is now very small," added Mr Perkmann. A major opportunity in the region is the servicing of wind turbines and power lines.
ETI, which is a Palfinger business unit within the area North America already produces its own 15 m – 20 m insulated platforms for low voltage, low hanging lines.
Palfinger North America has also recently introduced the P650i to the North American market. The P650i is a highly insulated, 65 m working height platform that enables technicians to work directly on the lines at voltages up to 500,000 volts.
Looking ahead, the global manufacturer is set to expand its Jumbo product line over the next year with the yet to be fully named P6XX and P7XX.