New MK-42 dump truck from GHH
By Andy Brown06 April 2020
German-based manufacturer of heavy machinery for civil engineering, tunnelling and mining, GHH, has launched the new MK-42 dump truck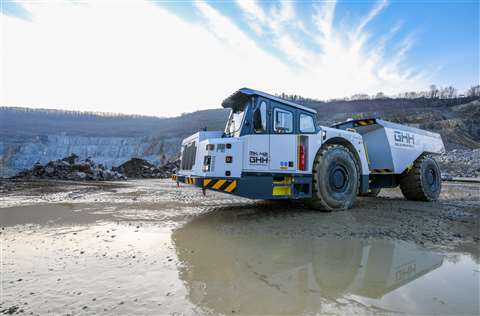 The new MK-42 has a maximum payload of 45 tonnes and a 19-24m³ dump volume. The dump truck recently received the Red Dot Design Award for its streamlined product design.
The 460 kW Mercedes OM473 forms the engine basis, fulfilling the latest emission standards according to Stage V. GHH also offers Tier 3 and 4 versions. Alternatively the Volvo TAD1651 or 1671 is available.
The power is transmitted by a converter and gearbox combination from the Dana 8000 series. The MK-42 is designed for use in harsh environments, especially in underground hardrock mining applications.
Its dimensions are 3062 x 10535 x 2719mm (WxLxH) and a large dumping angle of 68 degrees improves productivity.
Special emphasis was said to be placed on a safe and simple design, with low maintenance and repair costs a core discipline of the manufacturer.
According to GHH, the ROPS/FOPS certified cab is ergonomically designed to be spacious, quiet, pressurised and air-conditioned to ensure maximum operator comfort while minimising fatigue. The strategically placed trainer seat provides for effective operator training.
Global sales will start shortly as the prototype truck enters its final stage of rigorous testing. The new dump truck is sold by GHH Group, including all its subsidiaries and dealers. Exclusively for Russia, GHH markets a special version named MK-A45.