New niche scissor from Custom Equipment and Cushman
By Lindsey Anderson24 October 2012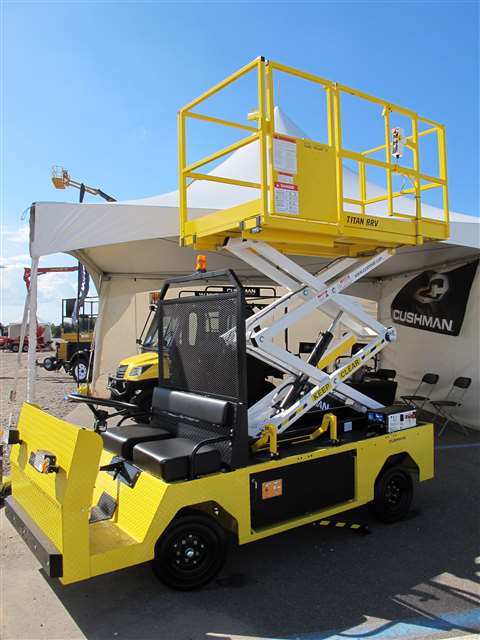 Custom Equipment, which produces the Hy-Brid range of scissor lifts, has joined up with commercial and utility vehicle manufacturer Cushman to make a niche two-passenger scissor lift.
The Titan lift features working heights up to 17 feet, can carry 1,800 pounds when stowed, 750 pounds when raised and can also pull 5,000 pounds behind it. Custom Equipment is currently supplying Cushman with its scissor stacks and platforms while Cushman produces the fully electric, 48-volt vehicle.
"We see this unit being used in convention halls, airports, casinos and other facilities where people need to get around quickly and work at height," says Brent Hagedorn, national accounts manager of Cushman's commercial branch.
The Titan is 44.5 inches wide, 114 inches long and 79 inches tall when stowed. It features a 16-inch slide-out deck extension and has 4.75 inches of ground clearance in the center of the vehicle. Maximum drive speed is 13 mph and the unit weighs 2,595 pounds.
Standard features include solid, non-marking tires; 4-wheel hydraulic brakes and T-145 Trojan 6V premium deep cell batteries.
There are currently three prototypes on the market.
For more information on this unit, see the November/December issue of Access, Lift & Handlers.