New products and positivity at GIS
By Euan Youdale02 October 2015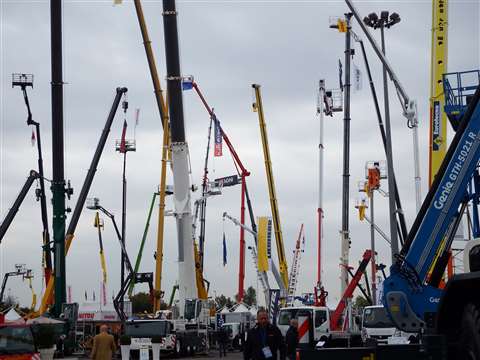 Exhibitors were out in force at the GIS exhibition in Piacenza, Italy, demonstrating the country is finally moving back into growth.

The specialist cranes, access and heavy transport show was expecting up to 4000 visitors over its three day run, 1 – 3 October.

Confidence was high among the access manufacturers who reported varying degrees of sales growth, ranging from 5% to 35% for this year and next, following years of stagnation.

There were a number of new platforms on display. Cela had its 30 m working height DT30 tracked platform on display. Together with the new 28 m DT28 it completes the DT range. They are both mounted on a six tonne truck and offer a certified 390kg hook. The DT30 has a jib and basket capacity of 225kg, while the DT28 has no jib but a 350kg basket capacity.

Two-year old tracked scissor specialist Almac presented the new Bibi 850-HE on its stand for the first time. It has a 7.82 m working height and a 250kg basket capacity. The units have extendable outriggers and automatic independent level tracks, which means these scissor products can be used on rough terrain.

Genius launched a new version of its Mak 1 lightweight, low level scissor lift. The 4 m working height Mak 1 is the manufacturer's first aerial work platform and was launched at Intermat. The new version, launched at GIS is a 4.6 m working height model. They both have a width of 80 cm, length of 120 cm, and a basket capacity of 130kg. Once the guardrails are removed stowed height for the 4 m version is 59 cm and 64 cm for the 4.6 m version.

Airo announced it will produce two new telescopic booms, with a launch set for Bauma. The T32 RTD and T34 JRTD, with 32 m and 34 m working heights respectively, will offer be its biggest booms and are aimed at the Asian market. They will be produced for its sister company Airo Beijing which will aim the booms at harbours.

Socage announced it had sold its first 21 m working height 21DJ truck mount since its launch one month ago. The buyer is Italian rental company Ruini. (See Linked article for more information).

CTE showed its Zed 21.2 JH articulated truck mounted platform. An important feature is the redesigned chassis, combined with high strength steel components, which means the total weight is less than 3350kg. Thus making the machines suited for Euro 5 and Euro 6 requirements. A Traccess 170 tracked platform was also on the stand.

Merlo introduced the Boat Handler, a new telehandler attachment lifting boats in and out of marinas. It was shown on a fixed model at the show but is more suited to its Roto products, said the manufacturer. It said the attachment was another demonstration how one telehandler can be used for a range of jobs in one place, such as a marina: including logistics, maintenance with a basket attachment and then boast handling with the new attachment.

Palfinger Platforms Italy announced it would complete the Low Smart Class truck mount product range, launched in May, by the end of this year. The 9 m to 17 m working height platforms are aimed at light 2 tonne to 2.8 tonne chassis, such as picks ups and other smaller vehicles. It is aimed at the world market and can be used for a wide range of jobs ranging from street light maintenance to palm tree pruning.

Isoli had a new truck mount on show, the 21 m working height PNT21OJD4, while Co.me.t launched the electric version of its Xtrailer.

Find out more about these products and the access market in Italy in the November/December issue of Access International.