New rigid hauler range from Volvo
By Andy Brown11 April 2018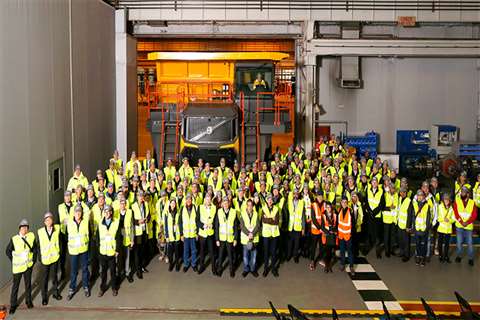 Volvo Construction Equipment (Volvo CE) has launched a new rigid hauler range which consists of the 45-tonne R45D, 60-tonne R60D, 72-tonne R70D and the flagship 95-tonne R100E.
The R100E is a completely new rigid hauler that combines market and customer knowledge with proven components, new technologies and a new design to fulfil the needs of today's mining and quarrying customers. The new four-model range is initially available in less regulated markets.
Volvo's new rigid haulers are made for surface mining and quarrying applications where operational costs and safe operations are critical. Uptime and productivity are centered on the range's durable design that promotes high component protection and longer lifecycles.
According to the company, Volvo haulers boast a competitive power-to-weight ratio, effective gearing and weight distribution that gives the tractive effort to allow the machines to traverse steep slopes in total control.
With customer input key to the development of the new range of rigid haulers, the machines have undergone extensive field testing. One such customer is Trollope Mining Services, a contract mining company based in Johannesburg, South Africa.
"The Volvo R100E is an impressive design that offers a good balance between productivity, fuel efficiency, comfort, ease of maintenance and safety," says Sagrys De Villiers, site manager at the Manungu Colliery. "We are sure that this truck will be a strong competitor in the rigid truck market in the future."
Based on the existing and well-proven Terex Trucks TR-Series, development of the D-Series R45D, R60D and R70D Volvo rigid haulers follows an in-depth engineering review, ensuring that the machines meet the standards expected from Volvo products in their target markets. Improvements include greater visibility and safety systems, along with Volvo technical support and branding.
Thomas Bitter, senior vice president of the marketing and product portfolio (MaPP) function at Volvo CE said, "We've been working on the new range since Volvo CE acquired Terex Trucks in 2014. The development of these machines has relied heavily on the longstanding rigid hauler expertise of Terex Trucks as well as customer input and the technological strength of the Volvo Group."