New shackle size
By Christian Shelton17 August 2020
Dutch lifting chain and steel wire rope manufacturer Van Beest has launched a new size for what it calls its flagship heavy lifting shackle in its Green Pin brand. The Green Pin Power Sling Shackle BN, which is specially designed for heavy lifting, is now available in size WLL 1550T. This means its working load limit, which starts at 125 tonnes, has now been extended from a maximum of 1250 tonnes to 1550 tonnes.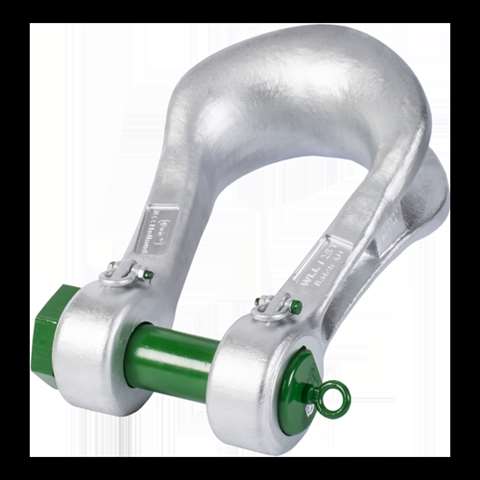 The Power Sling Shackle BN is equipped with six handling points on the shackle body and several more on the pin. The larger sizes have more handling points than smaller sizes, explained Green Pin. These are designed to aid lifting the Power Sling into place. The Green Pin Power Sling Shackle BN has a bending efficiency of 85 percent. Green Pin said its shackle crown is the widest in the industry and is 10 percent wider than its previous generation shackles.
The areas of the Power Sling shackle that endure the highest stress have been reinforced and the long-term performance of the Power Sling has been tested by Green Pin, who claim it subjected the shackle to more than 40,000 cycles of tensile and fatigue testing. This, it said, is double that specified by API standards. Green Pin added that each shackle is proofload tested to twice the working load limit and the ductility of the steel has also been checked at temperatures as low as minus 40° Celsius (-40 °F).
The Power Sling can be supplied with a variety of certificates.