New slot for Samoter
By Sandy Guthrie23 March 2018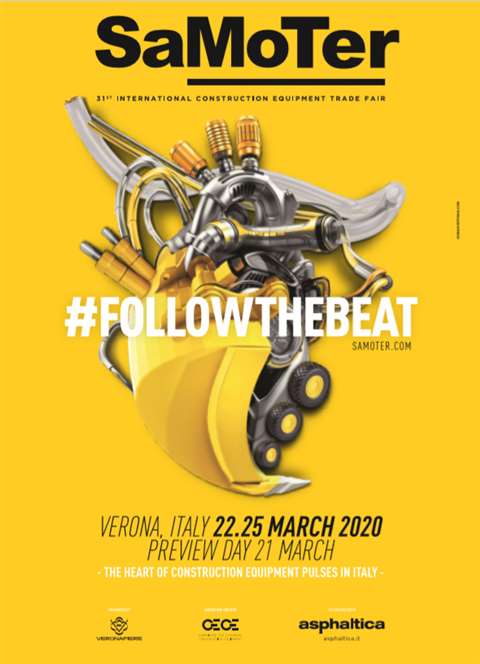 Samoter, the Italian trade fair next due to be held in 2020, will be at the end of March, rather than the February slot it used in 2017.
Also, it is switching to a Sunday to Wednesday format – 22 to 25 March – with an invitation-only preview on Saturday 21 March exclusively for the trade press and top clients of the exhibiting companies.
It will be the 31st edition of Samoter and will be held again at the Verona Exhibition Centre.
It claims to be the most important event of its kind in Italy for a sector that, according to the latest data made available by the Samoter-Prometeia outlook, achieved exports of more than €2.4 billion in the first 11 months of 2017.
The organisers said that in addition to the exhibition and business area, which attracted 450 companies in 2017 – 25% of them international – there was a strong focus on technological innovation, contents and in-depth training for operators.
Samoter 2020 will again run alongside the Asphaltica show which is dedicated to the asphalt and road infrastructure supply chain, organised with Siteb (the Italian Road Asphalt Bitumen Association).
Strategic partnerships with CECE (the Committee for European Construction Equipment) and Unacea (Italian Union of Construction Equipment & Attachments Companies) have been renewed, while the Samoter Outlook monitoring sector data will again be produced in conjunction with the Prometeia consultancy, with information from Unacea.
The show is being launched with the tagline #followthebeat.
Giovanni Mantovani, CEO and director general of Veronafiere, the company behind Samoter, said, "In designing Samoter 2020, we continue the path of upgrading and development initiated with the 2017 edition – as the new claim for the promotional campaign makes quite clear: #followthebeat."
He said moving the dates from February to March was in response to the needs expressed by manufacturers "to ensure increasingly tailormade attendance at the trade show".